What to do in Hollywood Once the Screen Fades to Black
By Mary McCord, Classic Film Watch Editor
Once the excitement and film-filled days of the TCM Festival is over, you have time on your hands. I travel to the Festival with my sister, Linda, and in recent years, we have started staying a day or two longer to rest up from the busy schedule of the Festival and to see the sights. In the past, we've gone to museums, taken bus tours of
Hollywood and eaten in restaurants. Restaurants are a big deal since during the busy four-day Festival there is no time to eat a meal and we depend on theatre popcorn during the day.
TCM Backlot Prize
This year, there was business to take care of first. Linda, who is a TCM Backlot member, attended a fan club gathering and won a very large, framed photo of Leslie Caron from the film Gigi. It was part of the decoration of the Club TCM set up at the Hollywood Roosevelt Hotel. Arranging for shipping home to Alabama took most of the morning, but this was a necessity since she really loved the artwork.
Hollywood Walk of Fame
We decided to spend the afternoon at the Hollywood Forever Cemetery where some of Hollywood's famous stars are interred. I decided that the best way to go was to take the metro from the theatre district to the Vine Street stop. Then, we walked down Vine, which is part of the Hollywood Walk of Fame, turning onto Santa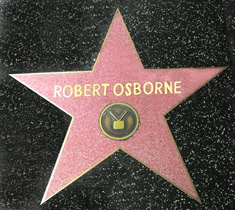 Monica Boulevard where the cemetery is located. It ended up being about a one and one-fourth mile walk. Just like a bored child on a long drive who plays a game of identifying car tags from different states, I began noticing the stars on the Walk of Fame that had been in the films shown at the Festival.
There were stars for: Mickey Rooney and Judy Garland (Love Finds Andy Hardy); Lauren Bacall (How to Marry a Millionaire); Maurice Chevalier (Gigi); Cyd Charisse (Silk Stockings); Cary Grant (His Girl Friday); Nancy Olson (Sunset Boulevard); Linda Darnell (A Letter To Three Wives); and Boris Karloff (The Raven). This film was Director Roger Corman's fifth Edgar Allen Poe adaptation and is a horror-comedy that also stars Vincent Price, Peter Lorre and a very young Jack Nicholson.
The star that touched me the most was the one for Robert Osborne, TCM's late host, located in front of the Ricardo Montalban Theatre. In his honor, an award will be presented at each Festival to an individual who has made strides in film preservation. Director Martin Scorsese received the award this year.
Hollywood Forever Cemetery
When we reached the cemetery, my impression was that it was peaceful and beautiful with flowers blooming everywhere, including bougainvilleas and roses, along with the largest variety of succulents that I have ever seen. When I walked through the cemetery and came across a pond with white swans floating and then surprisingly encountered a colorful, live peacock, I had to add the word "charming" to my description.
If you're taking a self-guided tour, it is extremely helpful to stop at the gift and flower shop near the entrance to purchase a $5.00 map. The cemetery is very large and was established in 1899 well before the film industry flourished. So, most of the population of the cemetery are Los Angeles founders and citizens who were not involved in filmmaking.
First, we went to the far eastern side of the cemetery because that seemed to be the area where many stars were interred. In that area, we saw Hattie McDaniel's grave (Gone With the Wind) near the pond. Mickey Rooney's crypt was on the other side of the street in front of the Cathedral Mausoleum. Nearby, there is a statute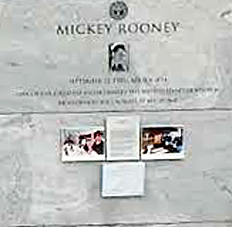 of Toto, Dorothy's dog, from the Wizard of Oz. Her grave had been destroyed elsewhere and her owner installed a memorial here. Also nearby is the Fairbanks lawn where Douglas Fairbanks Sr. and Jr. are interred in a raised tomb with a marble monument for them. The interment spot features a long, rectangular reflecting pool and classic Greek architecture. Outdoor movies are sometimes shown in this area.
The Cathedral Mausoleum closes at 2:00pm and we were too late to go inside where we would have seen the crypts of such film greats as Rudolph Valentino, famous for his Argentine Tango in The Four Horsemen of the Apocalypse; Eleanor Powell, believed to be the world's greatest tap dancer; and Peter Lorre who starred in Bogart films, Casablanca and The Maltese Falcon. And he danced, too (sort of in a comedic way) in the Fred Astaire film, Silk Stockings, shown at the Festival.
On our way to the other side of the cemetery, we met a man who has relatives buried here. We took him up on his offer to show us the Judy Garland Pavilion. Judy Garland's marbled crypt was very elegant. He said that she was originally interred in a mausoleum in New York, but she was moved to this cemetery in 2017. He also pointed out the crypts of some other stars, including the Talmadge sisters (Constance, Natalie and Norma).
During our conversation, we found out that his name is John Hugh McKnight, a former actor. He told us some interesting stories.
In 1967, he danced in the Elvis Presley film, Easy Come, Easy Go. One day on the set, he mentioned to Elvis that he wanted to get into the Screen Actor's Guild. Later on, Elvis requested that he and his dance partner be moved nearer to him on the set. They gave him one line to say which made him eligible for membership in the Guild. He also worked on several TV shows, including Voyage to the Bottom of the Sea, Here's Lucy and Hotel. We were lucky to meet such an interesting and knowledgeable person in this impressive cemetery. I would like to visit again someday.
Argentine Tango Milonga
Our final day in Hollywood, I took it easy and arranged for us to go to an Argentine Tango milonga (dance) that was being held that evening at the Candela La Brea, an event venue nearby. There was a group lesson before the milonga. I had taken lessons back in Birmingham and took this lesson, also. The wood dance floor was well-kept and the music system and acoustics were very good. Even though we didn't know anyone there and were both beginners, we managed to dance quite a bit. This was because it was very crowded with around 25 couples on the dance floor at any given time. Everyone was friendly and even talked while dancing. This was a surprise since Tango is a difficult dance which requires much concentration. It was fun and nice to meet new people—-a perfect end to our TCM Festival trip.