Review of TCM Film Festival 2013
Jane Fonda waves
to the crowd that gathered to witness her hand and foot-prints ceremony at the TCL Chinese Theatre (formerly Grauman's).
The silver screen turns golden
at the TCM Film Festival with special screenings and events
For four days in Hollywood, the silver screen turned golden when Turner Classic Movies (TCM) held its fourth annual classic film festival in April featuring movie restorations, anniversary screenings, panel discussions and celebrities. The festival was themed Cinematic Journeys: Travel in the Movies and attracted thousands of fans from across the world to watch more than 75 classic films in the theaters lining Hollywood Boulevard.
A world premiere of a new forty-fifth anniversary restoration of Funny Girl (1968) launched the festival. This red-carpet event was held in TCL Chinese Theatre (formerly Grauman's).
Highlights of the festival included a tribute to Jane Fonda with a hand and footprints ceremony in the forecourt of TCL Chinese Theatre and a screening of the modern classic On Golden Pond. For most films and events at the festival, it is recommended to arrive at least 30 minutes before the start time to ensure entrance. For the hand and footprints ceremony, I arrived an hour before the event. The fire marshal was there that day counting heads and the event closed just as I was nearing the entrance. For me, it was the biggest disappointment of the festival and a lesson to go very early to important events.
Later, I attended the screening of On Golden Pond where Jane Fonda introduced the movie relating amusing stories about working with Katherine Hepburn saying, "She was very competitive . . . I learned a lot from her. She was always there for me." She was close to tears when speaking about working with her father, Henry Fonda, in roles that closely paralleled their real-life, father-daughter relationship. "I haven't been able to watch this movie in years without crying." Her father died five months after the film was completed.
Everyone in the theater laughed. It was one of the most entertaining interviews at the festival.

Eva Marie Saint spoke about her life and career during an extended interview with TCM host Robert Osborne in front of a live audience. This interview was taped and set for debut on TCM in Spring 2014. There was a screening at the festival of
her first film, On The Waterfront (1954).

During the festival, I saw 15 movies and could have seen three or four more, if I had not taken breaks to dine at local restaurants. At previous festivals, I had been able to see only 11 or 12. I attribute this increase to TCM's improved scheduling this year. This was the third TCM film festival that I have attended and this was the first time I was able to view almost all the films that I really wanted to see. This is not to say that choices were easy, since usually there were five or six films playing at the same time or other events. TCM held time slots at one of the Chinese Multiplex theaters throughout the last day to show some of the most popular films of the festival. This gave me a chance to see three films that I missed on the previous day.
The most unique classic movie experience at the festival was
also my favorite. The Donovan Affair (1929), a comic murder mystery, directed by Frank Capra, was Columbia Pictures' first all talkie. The sound discs are missing so live actors dubbed the dialogue during the screening.

Other films that impressed me were It, a 1927 romantic comedy and silent film starring Clara Bow and Safe In Hell, a Pre-Code film.

Other films that I especially liked, mainly because they were shown on the big screen, were: Gilda (1946), starring Rita Hayworth and Glenn Ford; Flying Down to Rio (1933), the first pairing of Fred Astaire and Ginger Rogers; and the 3D version of Dial M for Murder (1954) with Grace Kelly and Ray Milland.

The fiftieth anniversary screening of It's A Mad Mad Mad Mad World (1963) brought out several of the actors who starred in the film: Mel Brooks, Mickey Rooney, Barrie Chase and Marvin Kaplan.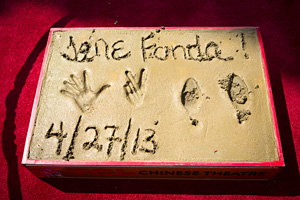 When Fonda placed her right hand in the cement, she made the peace sign. (Photos courtesy o
f Turner Classic Movies. Photographer: John Nowak.)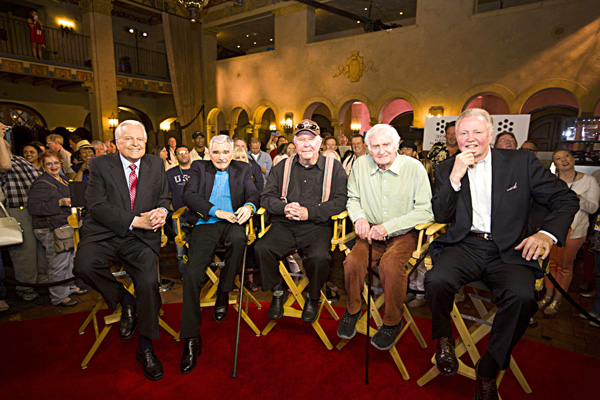 Robert Osborne, TCM host, (left) is shown with Deliverance
cast Burt Reynolds, Ned Beatty, John Boorman (director) and Jon Voight. They introduced the film at the TCM Festival. (Photo courtesy of Turner Classic Movies. Photographer: John Nowak.)
Deliverance, another modern classic, drew a large crowd mainly because of the actors who were present. I did not see this film. However, my sister, Linda, who attended the festival with me, saw it and reported the following:
Actors John Voight, Burt Reynolds and Ned Beatty along with the director, John Boorman, introduced the film. Ronny Cox, the fourth actor in the movie, was not in attendance because he is now a folk singer and had a conflicting engagement.

Beatty was very funny, stealing the show with his wise-cracking humor. Voight said he took a long time to consider the role, agreeing to appear in the movie only after he read the script to his future wife and she encouraged him. He complimented Reynolds and Beatty saying their performances were extraordinary. "We're all very proud of this picture. . . . It was so brilliantly done," he said speaking of the director, Boorman.

Reynolds talked about the stunt he performed, riding the rapids over a waterfall. Initially, a dummy in a canoe was sent over the falls, but it looked too fake. "I had an incredible ego at the time. I told them, 'I'll go here . . . I'll go over there. . . .' Like I had total control." But the rapids took over and he had no control. When they found him, he had suffered several injuries, two of them fairly serious. TCM host Ben Mankiewicz pointed out that a professional stunt man had looked at the stunt and refused to do it. "The professional stunt man had some brains," Reynolds said. "We go to rushes next day and I ask, 'How do you think it looks, John?' And he said 'It looks just like a dummy going over the waterfall.'"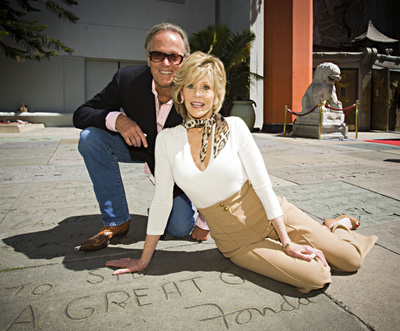 Jane Fonda and her brother, Peter Fonda, who attended the ceremony, pose next to their father's hand and footprint. (Photo courtesy of Turner Classic Movies. Pho-tographer: Adam Rose.)
Other stars who introduced films and participated in discussions included: Mitzi Gaynor, South Pacific (1947); Ann Blythe, Kismet (1955) and Mildred Pierce (1945); Max von Sydow, The Seventh Seal (1957) and Three Days of the Condor (1975); Tippi Hedron, The Birds (1963); Polly Bergen, Cape Fear (1962); Jane Withers, Giant (1956); Coleen Gray, The Killing (1956); Julian Sands, A Room With A View (1985); Marge Champion, The Swimmer (1968); and Jacqueline White, The Narrow Margin (1952).

Norman Lloyd, actor, producer and director, who had a long professional relationship with Alfred Hitchcock, introduced two Hitchcock films, Dial M for Murder and The Lady Vanishes (1938). Other directors, producers, screenwriters and film historians introduced films or participated in panel discussions. Alex Trebek of television's Jeopardy hosted a movie music trivia contest.

There seemed to be something for everyone at this year's TCM Classic Film Festival. At every theater, classic movie fans were interested in talking about the films and stars while waiting in line for the next screening. This is always a very enjoyable way to pass the time and make new friends at the festival.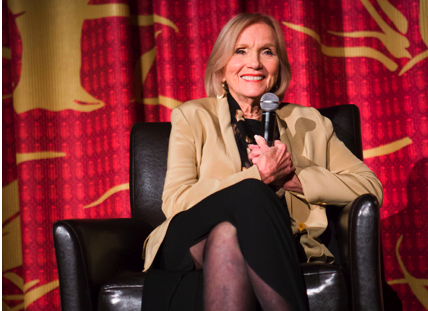 Eva Marie Saint speaks at the Chinese 6 Theatre. (Photo courtesy of Turner Classic Movies. Photographer: John Nowak.)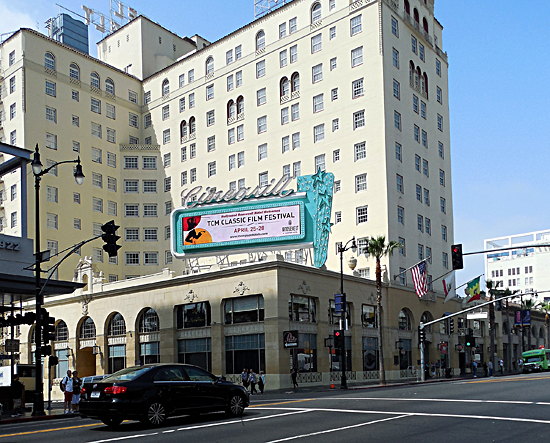 The historic Roosevelt Hotel on Hollywood Boulevard was the headquarters for the TCM Classic Film Festival.
(Photo by Mary McCord.)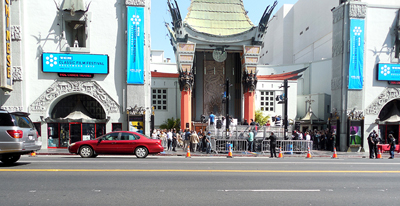 Workers in the forecourt of TCLChinese Theatre (formerly Grauman's) prepare for Jane Fonda's hand and footprint ceremony. (Photo by Mary McCord.)