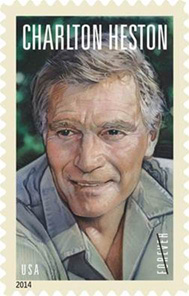 Actor Charlton Heston was honored as the 18th inductee into the U.S. Postal Service's Legends of Hollywood stamp series Friday. The event took place as part of the TCM Classic Film Festival.
Super Special Screenings (Friday)
Touch of Evil (1958)
After Universal-International fired Orson Welles, who was both the screenwriter and director of the film noir, Touch of Evil, he wrote a 58 page memo to the studio's head of production, Edward Muhl, detailing what he thought needed to be done to make the film work. But his advice was unheeded. . . Read More
Why Worry? (1923)
The silent comedy Why Worry? was Harold Lloyd's last film with producer Hal Roach. It's a hilarious story about an idler and hypochondriac who takes a vacation to Paradiso and takes on a South American Revolution, along with the help of his nurse and Colosso, a giant of a man . . . Read More
Festival Friendships
One important aspect of the TCM Classic Film Festival is the opportunity to make new friends and renew friendships you made at previous festivals.
Last year, I met two women who have classic film websites, Carrie Specht, www.classicfilmfan.com and Jill Blake, sittinonabackyardfence.com. Talking with them inspired me to create classicfilmwatch.com.
So far this week, I have had many conversations with other fans at the Festival. At the Conversation with Quincy Jones event, I ran into a friend I had made three festivals back and had a chance to catch up. I also made a new friend, Michael D. Reynolds, while waiting for the event to begin.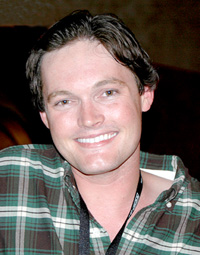 Michael D. Reynolds, actor in Jersey Boys
and classic film fan
Michael is a personable, young actor who has a great appreciation for the classic films, also. He really likes
Gregory Peck and Charlie Chaplin. Look for Michael in
Clint Eastwood's new film, Jersey Boys, set to be released
this June. He plays a nightclub owner in one of the per-
formance scenes. —Mary McCord, Editor
SATURDAY, APRIL 12
Jerry Lewis Hand & Footprint Ceremony
at the TCL Chinese IMAX Theatre
(Photos by Mary McCord, Editor)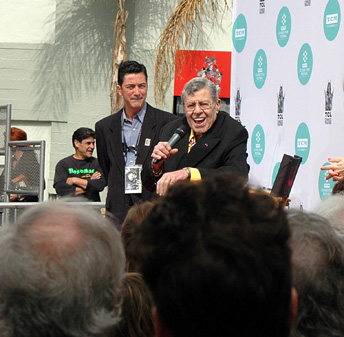 An enthusiastic audience welcomed Jerry Lewis to the courtyard of the Theatre where the hand and footprint ceremony was held. He greeted the audience with "What a motley crowd!" Then, he joked that we would all go back to his house for coffee afterward. From then on, it was one joke after another in typical Jerry Lewis fashion. complete with funny expressions and gestures.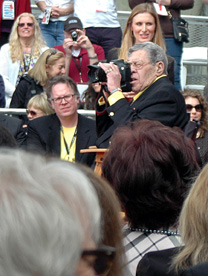 The media was busy taking photos of Jerry when he asked for his camera so he could take pictures of them. What a wild and funny man! This was an event that
the whole audience will remember forever.
Click Here To See More Festival Photos
Super Special Screenings (Saturday)
The Great Gatsby (1949)
F. Scott Fitzgerald's, The Great Gatsby, a classic of 20th century literature, has been filmed several times, including for television, with the most well-known versions being the ones starring Robert Redford (1974) and Leonardo Dicaprio (2013) as the elusive, mysterious Gatsby. It's a lesser known fact that Alan Ladd played the Jay Gatsby role in a 1949 black and white version. Leave it to TCM to acquire the rights to show this forgotten gem of a film at its Classic Film Festival.
This film has never been shown on television and is not authentically available on DVD. TCM Host Robert Osborne introduced the film saying that he had seen it at a young age when it was first released in theaters. He said it was his favorite film version of the book because Ladd portrayed the Gatsby character closer to Fitzgerald's original conception. He does not believe that any of the female leads in the three versions have portrayed the character, Daisy . . . Read More