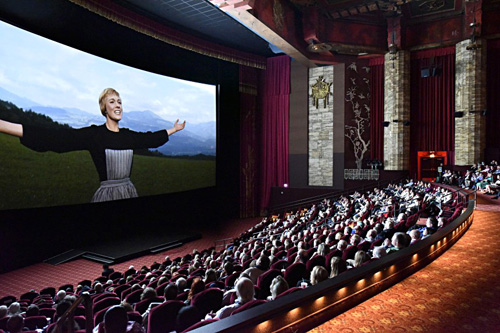 Photo by Edward M. Pio Roda, courtesy of TCM
TCM Classic Film Festival: Films and More Films!
Around 80 films were shown at the TCM Classic Film Festival in Hollywood, March 26-29, 2015.
Many of the screenings marked special anniversaries and/or restorations of the films.
Each year, TCM honors a select group of actors and filmmakers whose work represents the highest achievement. This year, the Festival honored the unique contributions of Christopher Plummer, Sophia Loren, Norman Lloyd, Shirley MacLaine, Anne V. Coates (film editor) and Terry Leonard (stunt man) by screening some of their important films and engaging them in conversations and special interviews.
The films below are considered by the editor of classicfilmwatch.com to be special screenings for various reasons from an interesting production story to a new musical score for a silent to a re-discovery of a lost, forgotten or rare film.
My Darling Clementine (1946)
Although I am not a huge fan of western films, there are a handful that I really love and My Darling Clementine is certainly one of them. It is a charming and romantic account of the legend of Tombstone and the iconic gunfight at the OK Corral.
It is directed by John Ford, who changed the location of Tombstone in order to showcase the scenery of Monument Valley. The black and white photography in the film is breathtaking. My favorite scene is the outdoor worship service and dance because it really shows the beauty and grandeur of the West.
Henry Fonda gives his usual fine performance as the legendary lawman, Wyatt Earp. Victor Mature is great as the tortured Doc Holliday. Linda Darnell is well-cast as Doc Holliday's girlfriend who becomes quite upset when Clementine arrives in town.
Clementine, played by Cathy Downs, is someone from Doc Holliday's past who shows up looking for Dr. John Holliday, someone who essentially no longer exists. A trained nurse, she remembers Dr. Holliday as being a fine surgeon, a skill he has to revive later on after Linda Darnell's character is shot. Following Doc Holliday's death at the OK Corral, Clementine decides to stay on and start a school.
Although the film culminates with the suspenseful gunfight at the OK Corral, it is not the violence that I remember, but the beauty, romance and humor of this great film. It is a film that truly has heart.
Actor/Director Peter Fonda and Actor Keith Carradine were on hand to discuss the film and their own careers in Hollywood. They both looked great and it was such a treat to see them in person.
When speaking of his father's role in My Darling Clementine, Peter said, "It was his finest performance."
He knows something about westerns because he directed and starred in the 1971 film, The Hired Hand, along with his father, who had a featured role. Peter and Keith are old friends. Peter directed Keith in the 1973 sci-fi film, Idaho Transfer.
Seeing Peter Fonda in person brought back memories of my college days when the only adornment on the drab walls of an even more drab dorm room was a poster from the film, Easy Rider, which Peter Fonda produced. The film stars Fonda and Dennis Hopper, along with Jack Nicholson in a break-out supporting role.
Out of Sight (1998)
At the screening of Out of Sight, TCM Host Ben Mankiewicz said that festival-goers had been questioning why this George Clooney, Jennifer Lopez film, had been selected. Was Out of Sight, out of place? It was released in 1998 which makes it a 17-year-old film. Under the most liberal standards, a film is considered a classic when it reaches the 20-year mark. And there is a difference of opinion as to whether age is the only factor of a film reaching "classic" status.
Ben said he really liked this film and was happy to find out it was being included in the schedule. He went on to say that the real reason the film made the schedule was that its editor, Anne V. Coates, had requested it be shown, along with another of her films, Lawrence of Arabia. She won the Academy Award for her film editing of the 1962 Lawrence of Arabia, an unquestionable classic, and she was nominated for Out of Sight.
During her introduction, she said her reason for selecting Out of Sight was because she wanted to show the differences in editing between the two films, which were made 36 years apart. Coates said she had always liked the editing she did for Out of Sight, a crime comedy film.
It was based on the novel of the same name by Elmore Leonard, one of my favorite authors. And that's the reason I was in the theatre to see this mainstream film that I really didn't think was a classic, either. Of course, I'd read the book and seen the movie before, but it had been awhile.
As it turned out, some of the best editing was noticeable in scenes that were not in the book, but had been added during the adaptation.
Coates spoke about a scene in Out of Sight where she especially liked her editing. It was the scene near the beginning of the film where Jack Foley, a career bank robber (George Clooney), and a U.S. Marshal, Karen Sisco (Jennifer Lopez) are forced to share a car trunk during Foley's escape from a Florida prison.
After Foley completes his getaway, he is chased by Sisco and they have a romantic fling along the way.
He and his good friend, Buddy, make their way north to Bloomfield Hills, a wealthy northern suburb of Detroit. There, they plan to pay a visit to a shady businessman, Ripley, played by Albert Brooks.
Ripley had foolishly bragged to them while in prison years before about a cache of uncut diamonds hidden in his home.
A violent criminal named Maurice Miller, who also spent time in prison with Ripley, is planning on breaking into Ripley's mansion with his own vicious crew.
A series of complex flashbacks to the prison days are liberally used, not so much to tell the film's story, but rather to define the characters. Flashbacks fall in and out of favor with film-makers for various reasons, including causing confusion as to the time and place of scenes. This was no problem with Out of Sight. Everyone was wearing prison garb, so you knew when you were in a flashback. If there had been a question and answer session after the screening, I would have asked Coates about the use of flashbacks and what happened in the editing phase of the film.
The conclusion of the movie was really close to the ending of the book. Even though the adaptation was different here and there, my opinion is that most of the added scenes and elements actually improved the story.
So, was Out of Sight out of place? Maybe it's not a true classic, but it was entertaining and a refreshing change of pace. TCM screened around 80 films during the Festival and there were four other solid classics shown in the same time slot as Out of Sight. The good thing about the Festival is that there are so many choices.
I think the most remarkable thing about the screening of Out of Sight was learning more about Coates's amazing career that spans almost half a century. She started as an assistant editor in the 1940s. Her first film where she received editing credit was the The Pickwick Papers in1952.
Other important films followed: Lawrence of Arabia (1962); Becket (1964); Dirty Harry (1971); Murder On The Orient Express (1974); The Elephant Man (1980); Ragtime (1981); In the Line of Fire (1993); Out of Sight (1998); Erin Brockovich (2000); and The Golden Compass (2007).
Although she is well past 80 years of age, her last project was Fifty Shades of Gray in 2014. In all, she has edited around 30 films—a truly amazing career.
Psycho (1960)
The opportunity to attend the screening of Alfred Hitchcock's Psycho at the TCL Chinese Theatre IMAX was truly an awesome experience. Although I have seen the film numerous times on television to the point where I can recite some of the dialogue, this was my first time seeing it on the big screen, as Hitchcock intended audiences to experience it.
As with other classic films I've seen on the big screen, I was impressed with the detail that is not so apparent when viewing the film on television, from the pattern in the carpet at the Bates' mansion to the subtle changes in expression on the face of Norman Bates, played brilliantly by Anthony Perkins. However, the thing I noticed most was the role that Bernard Herrman's magnificent musical score played in building suspense and heightening the sense of horror.
Director Edgar Wright, who is a great fan of Hitchcock's work, presented the film. He commented that if he were stranded on a desert island and could only have the films of one director, he would choose Hitchcock. He told an amusing story about the first time his mother saw Psycho when it was released in 1960. Because she had heard something about the shower scene beforehand, she decided to escape to the ladies' room to avoid watching it. However, once she was inside the ladies' room, the theater began to pipe in the soundtrack of the shower scene, possibly making it even more horrifying. Yikes!
One of the benefits of attending the film festival is the opportunity I've had to meet fellow classic film fans of all ages from throughout the U.S. and Canada. While waiting in line for over an hour to see Psycho, I made the acquaintance of two lovely, young women who live in the Hollywood area and are fortunate to be able to drive in for the day to see selected films: Tammy, whose husband constructs film sets at the major studios around Hollywood, and Laurie, who is married to rock singer, Eddie Money.
Rififi (1955)
Rififi, considered to be one of the greatest works of French film noir, was in my top five must-see films at the TCM Classic Film Festival. It falls under the heist film sub-genre of film noir and was directed by Jules Dassin.
The lead member of the heist team, Tony Stéphanois, was back in Paris after serving a five-year prison term for a jewel heist. His good friend, Jo, their mutual friend, Mario, and César, a safecracker, make up the rest of the team. They plan and rehearse to break into a Parisian jeweler's store and disarm its sophisticated alarm system.
Dassin took a chance with the middle part of the film. For 28 minutes, during the heist, it becomes a silent film. There are no words spoken and no music plays. You hear only natural sounds as the group chisels through a cement ceiling from an upstairs flat into the jewelry store. Yet, the scenes remain suspenseful.
As soon as the hole is large enough, they cleverly insert a closed umbrella and open it to catch the debris to lessen the noise of the burglary. Rififi's heist scene was based on an actual burglary that took place in 1899 in Paris where the burglars used the umbrella technique.
This was Dassin's first directing job since he had been blacklisted in Hollywood during the production of Night and the City (1950). After Rififi's release, it won Dassin the Best Director award at the 1955 Cannes Film Festival. The film was nominated by the National Board of Review for Best Foreign Film and was re-released theatrically in 2000.
Like so many of the films that I like, the history behind the film's production is just as interesting as the film. Dassin wrote the screenplay in only six days with the help of René Wheeler, who translated it from English to French. The screenplay was based on Auguste Le Breton's novel of the same name.
Dassin worked with a budget of only $200,000 and could not afford top stars for the film. He even had to take on the role of the safecracker, César.
I don't want to give away the ending and spoil the film for anyone interested in watching it through other avenues. But I will say this, it kept my interest from the very beginning to the dreaded noir ending. The scenes following the heist were fast-paced until the conclusion and included betrayal, shoot-outs with gangsters and a kidnapping.
Rififi was made in the final years of film noir and it is a great example of the genre. It has all the elements that are usually associated with film noir, including a femme fatale.
The screening at the TCM Festival was the world premiere of a digital restoration, courtesy of Rialto Pictures.
The Cincinnati Kid (1965)
To be honest, my main reason for attending the screening of The Cincinatti Kid was to see Ann-Margret, having been a fan of hers since Bye, Bye Birdie. I had never seen the film because a movie about gambling just didn't appeal to me. However, as with other films I've seen on the big screen at this festival, I found much more to appreciate and enjoy.
The film isn't just about gambling, but is also about relationships and how values such as pride, honor and integrity affect them. The film is set in Depression-era New Orleans and stars Steve McQueen in the title role. Karl Malden plays the part of Shooter, the Kid's friend and fellow gambler. Ann-Margret shines in the role of Shooter's wife, Melba, who is constantly trying to seduce the Kid, despite her friendship with his girlfriend, Christian. Tuesday Weld is charming in the role of Christian.
The Kid, a hot-shot stud poker player, has a lot of pride in his ability and thinks he is ready to take on the king of the gamblers, played wonderfully by Edward G. Robinson. Shooter arranges the high-stakes, marathon poker match and is the primary dealer. He has always been known for his honesty and integrity, but is being blackmailed into throwing the game in the Kid's favor. When the Kid realizes this, he refuses to go along, confident that he has the skills to win fairly.
Ann-Margret was on hand to present the film, along with TCM host, Ben Mankiewicz. In discussing Steve McQueen, she said they had something in common, a love of speed—not the drug, but going fast! Ann-Margret's love of motorcycles dates back to her childhood in Sweden. When Mankiewicz asked her about the fastest she has gone on a motorcycle, she replied, "One hundred twenty miles an hour at 2:00 a.m. on Mulholland Drive."
Ann-Margret continues to act. Last season she appeared in a recurring role on the Showtime original series, Ray Donovan. She and Roger Smith have one of the most enduring Hollywood marriages. They will celebrate their 48th wedding anniversary later this year.
Limelight (1952)
The 1952 Limelight was Charlie Chaplin's last film made in the U.S. It was released amidst public controversy. When Chaplin returned from the London premiere of the film, he was denied re-entry because of suspected Communist ties.
Actor Norman Lloyd, who played a choreographer in the film, introduced Limelight. In real life, he was a friend of Chaplin, and they played tennis frequently. He told the audience that Chaplin had given his rival from the silent film days, Buster Keaton, a role in the film because he was undergoing financial difficulties at the time. He encouraged the audience to pay special attention to the scenes towards the end of the film where Keaton and Chaplin give a remarkable performance at a benefit concert.
The clowning of two masters of comedy was fun to watch and I wondered if this movie was the only time they had worked together so closely.
Chaplin also gave roles to other friends and family, including his son, Sydney Chaplin. His casting of newcomer Claire Bloom launched her career.
Limelight surprised me. I had never seen it before so I didn't know what to expect. I wouldn't classify it as a comedy, although there is humor in the film that was set in 1914 London on the eve of World War I. It's more of a drama and a surprisingly sweet, believable May-December love story between Chaplin's aged clown character, Calvero, and a young ballerina, Terry, played by Claire Bloom. Terry's love for Calvero appears genuine--a credit to Bloom's acting skills.
A once successful clown, Calvero's career has dissipated as he whiles away his time drinking. He saves Terry from a suicide attempt and nurses her back to health.
As Calvero helps Terry regain her self-esteem and resume her dancing career, she falls in love with him and wants to marry him. Calvero also tries to make a comeback as a clown, but is less successful.
In the course of her work, Terry meets and befriends a young composer (Sydney Chaplin) who Calvero thinks is a better match for Terry. He leaves home and becomes a street entertainer to give the young couple a chance at love. Terry's love for Calvero seems to grow stronger and her loyalty to him is unwavering, although she is not without feelings for the composer. At the benefit performance, the film finds a solution for the complicated romance.
Why Be Good? (1929)
Why Be Good? was Colleen Moore's last silent film, a 1929 First National Pictures' comedy, that had been considered a lost film for many decades. Only the film's Vitaphone soundtrack was still in existence. That is, until a 35 mm print of the film was discovered to survive in an Italian archive in the late 1990s. Funded by Warner Brothers and The Vitaphone Project, restoration work on the film began in 2012 and was finished in 2014.
This film is historically important because it is an example of the transition from silent to sound. While the dialogue appeared in captions, the music and sound effects were recorded and synchronized.
Why Be Good? is a delightful film about a young flapper named Pert, played by Moore, who is worried about her reputation. In one scene, she assures her mother that she is a good girl, but that she would be disgraced if anyone else found that out. So, she frequents Speakeasys, enters Charleston contests and pretends to drink to keep up appearances and protect her wild reputation.
One night, she meets a handsome young man and they make a date for the next evening. However, when Pert goes to work the next morning, she discovers that the young man she had met is actually the new personnel manager at the store where she works. And he is Winthrop Peabody, Jr., the son of the store's owner. Neil Hamilton plays this role. At Winthrop Peabody, Sr.'s direction, she is immediately fired, but Junior is still smitten with the vivacious Pert.
He invites her to a party at his parents' home. His father isn't pleased because he thinks she is after money. Pert's parents are concerned because they think Winthrop Jr. is a playboy. Junior informs his father that he has devised a test of Pert's virtue.
Why Be Good? was a great diversion. It was full of fun times—flappers decked out in sparkly frocks dancing the Charleston with the roaring 20's music often playing in the foreground. It was a visual treat and with the restored, synchronized music and sound effects, you almost forgot the film was silent. If you looked closely, you could spot Jean Harlow for a few seconds in a non-speaking role.
Afterwards, I thought about my experience watching the film and how it might compare with that of a 1929 woman. Other than technological and style changes, I noticed two elements in the film that have had a lot of attention in our modern times: peer pressure and the double standard—the different expectations of behavior for young women compared to that of young men. There probably weren't that many discussions about peer pressure or the double standard in 1929. The terms were probably not even in use then. Eighty-five years later, these perceptions still, to a lesser extent, exist today. I wonder what it would be like now if these perceptions had vanished as fast as the Charleston.
The Apartment (1960)
A film I did not want to miss was The Apartment, a 1960 comedy-drama produced and directed by Billy Wilder. I was particularly interested in hearing Shirley MacLaine speak during her introduction of the film, which she starred in, along with Jack Lemmon and Fred MacMurray.
This is the film that I always associate with Shirley MacLaine. It was the first film of hers that I remember seeing. I loved her performance so much that for years I would search out her older films and wait for her newer ones. I was never disappointed. I particularly like Hitchcock's The Trouble With Harry (1955), The Turning Point (1977) and Steel Magnolias (1989).
On the stage at the Festival, she looked as cute with her pixie hair style as she did on the screen during the showing of The Apartment. She spoke about the making of the film that was both a commercial and critical success. It was nominated for ten Academy Awards and won five, including Best Picture.
She said that the screenplay was a work in progress during the filming with scenes being added here and there as they went along.
One day, Wilder asked her what she did the previous weekend. She told him that members of the "Rat Pack" were teaching her how to play cards. The next thing she knew, scenes appeared in the script where she played gin rummy with the Jack Lemmon character. Even the most famous and final line of the film was about card playing, "Shut up and deal."
On another day during a break, she made some comments about love and before she knew it, Wilder turned her comments into dialogue for a scene in the script.
When the movie started playing, there she was, a cute and no-nonsense elevator operator named Fran, working in a high-rise office building in New York City. It's no wonder that Lemmon's character, Bud Baxter, a low level insurance office worker, was interested in her. They had great chemistry on the screen, but the characters had to go through some hurdles to find love.
Fred MacMurray's character, Jeff Sheldrake, was a cad and he played the role perfectly. As personnel director of the insurance company, he promoted Bud so that he could use his apartment to continue an extramarital affair with Fran.
The movie was sad in places—the bad affair, a suicide attempt—but there were many humorous moments in the film. A scene, which is still just as funny as the first time I saw it, is the one where Bud prepares a spaghetti dinner for Fran using a tennis racket to drain the pasta.
MacLaine's acting career spans six decades. During her career, she starred in many films and several television shows. She won the Academy Award for her role in Terms of Endearment (1983) and is the author of several books on spirtualism.