Opening Night Film: In A Valley of Violence

While most westerns explore good and evil with violence as a component, this film casts Violence in a major role. None of the characters, including the protagonist, are likeable or could be considered the good guy. The director and screenwriter, Ti West, known for his horror films, sparingly uses humor to lighten the darkness of the film. This momentarily gives the film a spoof-like quality until the action draws the viewer back to the violent sequence of events.
Ethan Hawke stars as Paul, a loner and drifter. The film doesn't disclose much about Paul. Through a flashback, he is shown wearing a Civil War uniform and the audience is left to speculate if he still suffers from the effects of the war. His goal is to reach Mexico until he happens upon Denton, Texas, a practically deserted mining town located in an area known as the "Valley of Violence." In a bar, he has a run-in with Gilly, the local bully (James Ransone) who turns out to be the son of the town's Marshal (John Travolta). He is also the Marshal's deputy. Gilly starts a fist fight and Paul knocks him out with one punch and so begins this revenge western.
The Marshal talks to Paul and senses that he had been a military man, trained to kill. When he orders Paul to leave town, the angry Gilly and two of his trouble-making cohorts follow. They viciously attack Paul at night, beating him and killing his dog and only friend, Abby. He wants revenge.
This is when you begin to discover that Paul is missing a moral compass. Or, if he had one, it is broken and spinning wildly out of control. Instead of guiding him on his path to Mexico, it points him back in the direction of Denton. Once there, Paul methodically goes about exacting cruel, merciless revenge.
It wasn't the violence that bothered me the most about the film. I never could
The film has all the elements of a typical western film, including a wonderfully bold score reminiscent of classic westerns. The strong performances of such experienced actors as Hawke and Travolta gives the film a certain degree of credibility in the western genre. The audience seemed to like the film, laughing at the humor and giving a rousing round of applause at the end. Ti West spoke about the film, explaining various aspects of its creation. In A Valley of Violence screened in the Alabama Theatre, which was packed to capacity. The old movie palace was built in 1927 and seats 2,500. The film is scheduled to be released to theatres October 31.
Documentary: First Lady of the Revolution
The story of Henrietta Boggs, a young Alabamian, who went to Costa Rica in 1941 to visit relatives sounds like the plot of a romantic adventure novel. There, she met José "Don Pepe" Figueres Ferrer, fell in love and married the landowner, who was destined to lead the country to democracy. This was the subject of the documentary, "First Lady of the Revolution" that screened at First Church during Sidewalk.
The documentary was part history and part life story of the amazing Henrietta Boggs who left her sheltered life in Birmngham to live in a country undergoing uncertain times. The 98-year-old was in attendance at the screening and spoke afterwards. Her autobiography, Married To A Legend Don Pepe, offered much information for the filmmaker, Andrea Kalin, as did extensive research both in the U.S. and Costa Rica. The next day after the screening, Ms. Boggs gave a reading from her book at Revelator Coffee Company.
When she first met Figueres, their courtship consisted of motorcycle trips around the exotic countryside of Costa Rica. They married soon after and had two children.
Figueres, a champion of democracy, established himself at the head of the Social Democratic Party. Rafael Angel Calderón Guardia was president at the time. In 1942, Figueres was exiled for criticizing Calderón's administration on the radio. His wife suggested this means of communication. He and his wife spent some of this time in Mexico, returning to Costa Rica in 1944.
In 1948, Calderón "won" a crooked election against Otilio Ulate, a candidate supported by Figueres and other opposition groups. This led to civil war, placing Henrietta's family in danger. Figueres led a rebel army, which defeated Calderón's communist supporters. After 44 days, the war ended when the rebels, having won a series of battles, were poised to take the capital, San José.
At this time, a "Junta Fundadora" or Founding Council was established to govern the country temporarily. Figueres was named head of the Junta which governed Costa Rica for 18 months before Ulate was finally handed the Presidency he had rightfully won in the 1948 election. As head of the Junta, Figueres was essentially President during this time, enacting numerous popular reforms and directing the creation of a new constitution. Henrietta's constant advocacy for women's rights, particularly voting rights, was hugely influential in Figueres' own advocacy for those rights once he attained the presidency. In later years, he served two other terms as President.
In 1952, the couple divorced and Henrietta returned to the United States with their children. Today, Ms. Boggs lives in Montgomery and is a frequent contributor to the Montgomery Advertiser. This fascinating documentary will be available in October, 2016. For more information, visit www.firstladyoftherevolution.com.
UPDATE: This film won the Sidewalk Jury Award Honorable Mention and the Audience Choice Award for Best Alabama Film.

Classic Inspired
Raiders of the Lost Ark: The Adaptation
When the original Raiders of the Lost Ark premiered in 1981, there were three 12-year-old boys in an audience in Mississippi who were affected for life. Eric Zala, Chris Strompolos and Jayson Lamb loved the film so much that they spent their summers and allowances on remaking the film, shot by shot, recruiting other friends to fill the roles.
It didn't always go smoothly. There were several calamitous events involving fire, but they pressed on. In 1989, they considered the film to be finished except for one scene that was impossible to recreate due to the danger of large, spinning airplane propellers.
Fast forward to 2014 when members of the cast raised money so they could re-unite and film the one scene they were not able to re-create as teenagers. Again, explosions and fire threatened the project, but they pressed on and finished just as their time and money ran out. The scene was added to their 1989 film and Sidewalk Festival goers were treated to this new version.
The film stays true to the original. The kids had to make do with whatever they could come up with for props, costumes and sets. They even had to settle for a dog to play the monkey, since there was a shortage of monkeys in Mississippi. Still, they did a fine job on such a limited budget and it is obvious that they were focused and dedicated to the project.
The actors appear throughout the film at different ages which adds humor. Of course, the airplane scene stands out as being of the highest technical quality. The actors were all in their forties and for the first time, fit the characters they were playing.
Eric Zala, who directed the film and played Belloq, was present to introduce the film. Chris Strompolos played Indiana Jones and Jayson Lamb was the cinematographer.
The film was great fun and the theatre was filled with laughter. It was shown in the Carver Theatre as a double feature along with the documentary, Raiders! The Story of the Greatest Fan Film Ever Made. For more information, check out their website www.raidersguys.com .Click here to read a review of the documentary from last year's Sidewalk.

Retro Film: Stay Hungry
Each year Sidewalk Film Festival selects a retro film for screening. This year, they chose Stay Hungry, a 1976 comedy-drama film set in Birmingham and nearby Alabama locations. Bob Rafelson directed the film and Charles Gaines wrote the screenplay which was adapted from his novel.
A young businessman, Craig Blake (Jeff Bridges), gets involved in a shady real-estate deal. In order to close the deal, he needs to buy a gym building to complete a multi-parcel lot. When he visits the Olympic gym, he finds himself romantically interested in the receptionist (Sally Field) and drawn to the carefree lifestyle of the Austrian body builder "Joe Santo" (Arnold Schwarzenegger) who is training there for the Mr. Universe competition.
Sam Tenenbaum, Jr, The Great Kaiser, was present to help with the introduction of the film and told some amusing stories. Back in 1975, he was wrestling professionally and training at the Olympic gym. While there, he met Arnold Schwarzenegger and was invited to a pool party at the motel where the actors were staying. They were sitting poolside talking when Schwarzenegger asked what name Tenenbaum used as a professional wrestler. At the time, he went by Bob Kaiser "You need something better." Schwarzenegger told Tenenbaum. 'You should put a mask over your head, say you're from Austria like me and call yourself the Great Kaiser.'" Eventually, Tenenbaum followed his advice and has been known as The Great Kaiser ever since. He even wore his mask for the introduction.
Schwarzenegger won a Golden Globe for "Best Acting Debut in a Motion Picture" for his portrayal of Joe Santo in Stay Hungry. This was his first speaking role in a film. He and his co-stars Sally Field and Jeff Bridges went on to bigger and better roles. Other actors in the film who became better known are: Ed Begley, Jr., Joanna Cassidy, Alabama native Fannie Flagg and Robert Englund, best known for playing Freddy Krueger in the Nightmare on Elm Street film series.
Of course, the city of Birmingham, its streets and landmarks, made this film immensely popular with the large audience. For me, my favorite part of the film is when Bridges and Schwarzenegger go to the nearby countryside. Schwarzenegger's character plays a fiddle and jams with a Bluegrass band. It was very entertaining to hear the lively music and watch Bridges' character clog with the best of the country dancers.
Stay Hungry is available on Netflix and Amazon Video.
Closing Night Film: Little Sister
Sidewalk closed the Festival with Little Sister, a comedy-drama film with a big heart. It's the story of a nun, Colleen (Addison Timlin), who is readying to take her final vows when her mother contacts her that her brother has come home. She immediately arranges to borrow a car to go back to North Carolina. She hasn't spoken to her parents in years, having chosen a self-imposed exile.
Once home, she finds her brother (Keith Poulson) living in the guesthouse, a recluse who has returned from the Iraq war, disillusioned, disfigured and depressed. You soon discover that her eccentric parents, especially her mother (Ally Sheedy), relies on certain additives to their diet (marijuana and mushrooms) to face the realities of life. Her sister, who does not live at home, seems preoccupied with her own life.
Forget any other film you have seen about a nun. Forget any stereotypes. This film is not about Colleen questioning her decision to become a nun, although she repeatedly calls in to the convent asking for extra time at home, which makes you wonder. It is about family and coping—rallying around and supporting family members in need.
It's difficult for her to reach her brother in his depression, but she manages to get him out of the guesthouse to visit a friend of theirs and go to the family's Halloween party. When Colleen was a teenager, she was into the goth culture—music, black lipstick, heavily lined eyes—the works. Being at home during Halloween, she revisits the culture. Her mother bakes cupcakes, secretly laced with marijuana, for the party.
Of all the films I watched at Sidewalk, this was my favorite. This is because it was a heartfelt story with fresh characters and ideas that explored the sister-brother relationship rather than the more common sibling relationships of sister-sister or brother-brother.
The story idea came from Zach Clark and Melodie Sisk. Clark was also the screenwriter, director and producer for the film. Other producers were Sisk and Daryl Pittman. For more information, visit www.littlesisterthemovie.com.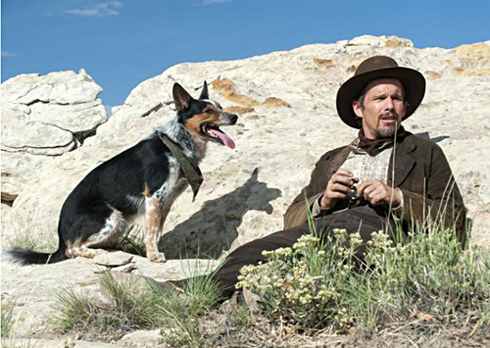 Ethan Hawke starred In A Valley of Violence as a troubled
drifter. He is shown with Jumpy, the dog that played Abby.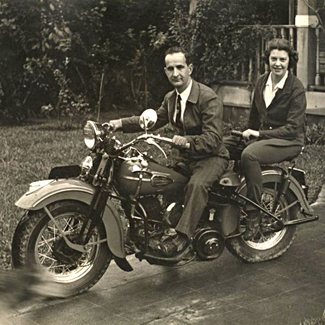 José "Don Pepe" Figueres Ferrer and Henrietta Boggs (early 1940s)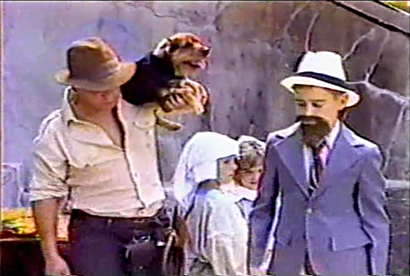 Scene from Raiders of the Lost Ark: The Adaptation. Chris
Strompolos's dog, Snickers, starred in the film as the monkey.

––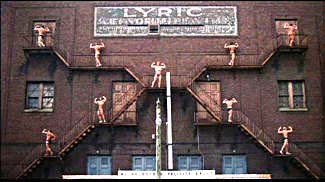 Bodybuilders pose on the Lyric Theatre's fire escape at the end of the 1976 film, Stay Hungry. The old vaudeville theatre was recently renovated and the fire escape is no longer there. The Lyric was built in 1914. Major stars such as the Marx Brothers, Mae West, Sophie Tucker, Will Rogers and Milton Berle played the Lyric. It is now a performing arts center and one of the venues for Sidewalk.
.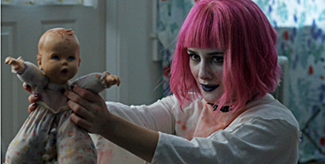 Scene from Little Sister, a comedy-drama about a nun who returns home to deal with family concerns. While there, she revisits her goth past.