The title Romance On The High Seas always grabs me. There's a touch of mystery and adventure to the title that leads you to expect more than romance. And you do get more, much more. You get the fresh-faced, charming and talented Doris Day in her debut film. Needless to say, this is a musical and Doris is wonderful in her first role as a nightclub singer who takes on the identity of a socialite and goes on a cruise in her place.

As with most musicals that are romantic comedies, the story is pretty thin and the plot contrivances keep it that way. It's an exercise in jumping to conclusions, running to conceal true identities, and stretching the viewers' suspension of disbelief. There is very little dancing in the film with most of it being in the background. However, on a cruise ship and in nightclubs in exotic ports of call, there are plenty of opportunities for Doris to burst into song. But, I do wish she could have danced in this movie.

Doris plays Georgia Garrett who loves to plan vacations. She's a regular visitor to a travel agency planning trips that she can never afford to go on because she is a struggling singer. At the travel agency, she meets Elvira Kent (Janis Paige) who is married to a successful man, so money isn't a concern. However, she is always planning trips that she has to cancel because her husband, Michael (Don DeFore), is too busy in his business to go. Also, she suspects him of cheating on her.

Elvira asks Georgia to assume her identity and go on the South American cruise she has planned, while she remains in the city secretly spying on her husband, who will think she is on the ship. Michael becomes suspicious of her willingness to go on the trip alone, thinking she may be cheating on him. So, he hires a private detective, Peter Virgil (Jack Carson), to investigate his wife during the cruise.

Peter is not a very good detective because he didn't get a picture of Elvira and doesn't know what she looks like. He thinks Georgia is Elvira and in the course of his investigating her actions, they become attracted to each other. They gradually fall in love, causing the needed conflict to keep the story going. A series of other events and the arrival of Michael to join the cruise at one of the ports further complicates matters.

Doris Day, a former big band singer and solo vocalist, sang several songs during the movie, including the popular "It's Magic." It is evident in Romance On The High Seas that her cute facial expressions, lilting speaking voice and distinctively sweet singing voice were present from the beginning of her film career. The money-crunchers pulled out all the stops for the newcomer when it came to her wardrobe. She looked stunning in one beautiful evening gown after another throughout the movie. And her daytime wardrobe was fabulous, as well.

Romance On The High Seas is a 1948 Technicolor film directed by Michael Curtiz. Financially successful, it was nominated for two Academy Awards, one for Original Song for "It's Magic" (music by Jule Styne and lyrics by Sammy Cahn) and another for Music, Scoring of a Musical Picture (Ray Heindorf).

Even though Doris Day had fourth billing in her debut film, the audience reaction to her was so strong and immediate that Warner Brothers signed her to a seven-year contract. Romance On The High Seas turned out to be a high accomplishment for Doris, anchoring her film career from the beginning.
Note: If you would like to see more photos, click the Facebook icon to visit Classic Film Watch's Facebook page. Thanks for your interest!

Note: All photos are screenshots from the trailer for Romance on the High Seas that was not copyrighted.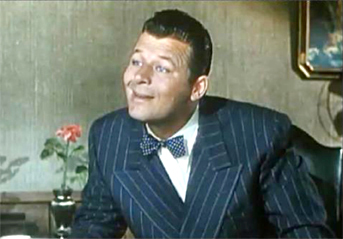 Jack Carson plays the role of private detective Peter Virgil who has been hired by Elvira's husband Michael to keep tabs on her during the cruise. The problem is, Georgia switched identities with Elvira and went on the cruise in her place.