My Take On the 2019 TCM Film Festival

By Mary McCord, Editor, Classic Film Watch
When TCM first released its schedule a couple of weeks before the Festival, I immediately started planning what I wanted to see. Of course, as usual, my interests changed considerably once the Festival opened in Hollywood. I always look for films that tell a good story, whether they be film noirs, romantic comedies or compelling dramas. I'm always on the lookout for films I've never seen before. Over the years, my interests have expanded to include silent and pre-code films.

Sunrise: A Song of Two Humans (1927)
I've been going to the TCM Festival for the past eight years and I can honestly say that I have never been able to pick a favorite from the films I've seen as there are so many good films shown each year. It was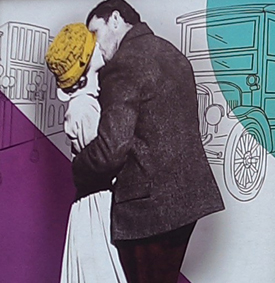 different this year. I think my favorite was the silent film Sunrise: A Song of Two Humans. I had never seen it before, although TCM has shown it on their network in the past.
The story began as a murder plot where a man, played by George O'Brien, was going to kill his wife. Soon after the disturbing beginning, remorse, love and forgiveness prevailed. It became very comedic as the remarkable love story unfolded, finally ending in a disaster and fight for survival.
Even though the film dabbled in so many different genres, this fable-like tale held together well. It is a fine example of the silent film's ability to tell a story through action and the acting skills of the stars. There were not many titles to read. Even the lighting was especially good. The history of the film is that in 1928, it won an Oscar for Best Picture: Unique and Artistic Production. That year, there were two Oscars awarded for Best Picture. The silent film Wings won the typical Best Picture Oscar. Sunrise also won an Oscar for Cinematography with the leading actress Janet Gaynor winning for Best Actress. I can't believe I had never heard about this film before. It was a real discovery for me and was one of the films presented that Kevin Brownlow had preserved.

A Woman of Affairs (1928)
Another special screening was the Greta Garbo - John Gilbert silent film, A Woman of Affairs (1928), mainly because it was such an entertaining event. Composer Carl Davis conducted a full orchestra playing his new composition for the film. Before the film started, it was announced that one of the members of the orchestra was John Gilbert's great-great-grandson. The film was also one of Kevin Brownlow's preservation efforts.
A silent western double feature also screened at the Festival: The Great K&A Train Robbery (1926); and Outlaws of Red River (1927). Musician Ben Model provided live accompaniment.

Sleepless in Seattle (1993)
I took a break from the traditional classics to see the contemporary classic, Sleepless in Seattle. My Festival pass did not include the opening night film, When Harry Met Sally, written by Nora Ephron and directed by Rob Reiner, so this was a chance to see another good romantic comedy starring Meg Ryan, along with Tom Hanks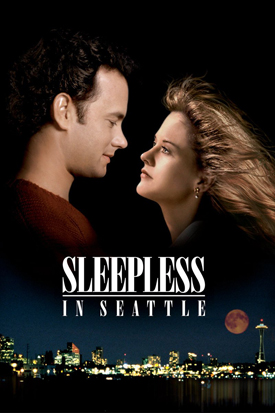 . Ephron directed and co-wrote Sleepless in Seattle. These two romantic comedies and an event at Club TCM, which included a panel discussion about her life and career, were part of TCM's tribute to the late Nora Ephron. Her son, Jacob Bernstein, and Actress Rita Wilson, participated in the discussion, which I did not attend because of scheduling conflicts.
Years ago, I met Nora Ephron and heard her speak at a writer's conference held at Birmingham Southern College. I remember seeing her standing in the shadow of a column on the stately building that housed the auditorium. She was absorbed in taking in her surroundings, yet seemed approachable. So, as I passed by, I said hello and learned that she was the speaker that morning. It was early in her screenwriting career and I did not know much about her. On stage, she spoke about co-writing the screenplay for Silkwood (1983), which was nominated for an Academy Award in 1984. It is believed that some incidents portrayed in the film were exactly parallel to the real-life experiences of Karen Silkwood, a whistleblower. Ephron spoke about the challenges of writing a script about a real person and how the telling of a film story needs to be unencumbered so that it can move along at a faster, smoother pace. This could mean changing or altering a factual detail along the way to make story telling more efficient. Over the years, I've come to appreciate her outlook and think that it applies, not only to biographical films, but also adaptations of books. I thought about her talk and views when I went to the TCM Festival screening of Wuthering Heights.

Wuthering Heights (1939)
I had forgotten just how good the film adaptation is of Emily Bronté's tragic love story, Wuthering Heights. Directed by William Wyler and starring Merle Oberon and Laurence Olivier, it screened at the Legion Theatre, a new venue for the TCM Festival. This adaptation by Ben Hecht and Charles MacArthur differs from the book as it leaves out one generation and is set in the 19th century instead of the 18th. I've read the book and the changes occurring in the film do not deter the story.
Alex Trebek's picturesque introduction was what made this screening a special event. He spoke about his life-long appreciation of the film. His wife shared his enthusiasm, which prompted them to visit the Yorkshire Moors to see the area where Emily Bronté wrote the book. He talked about their walk along the moors, being caught in the rain and their visit to an old abandoned house, which is believed to be the inspiration for the book.
The film was released in 1939, the year that many historians believe to be the most outstanding one ever. Other 1939 films screening at the Festival were: Gone With the Wind; Goodbye Mr. Chips and Love Affair.

Road House (1948)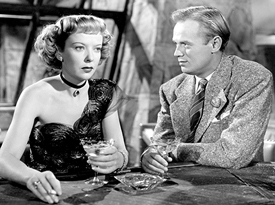 Road House, starring Ida Lupino, Cornell Wilde and
Richard Widmark was unusual for a film noir as it was set
in a small town and a rural area. Lupino stars as a sultry
singer in a backwoods nightclub. It was a special screen-
ing because the film was nitrate, the reason that Lupino's gowns sparkled with such luster.
Other nitrate films shown were: Samson and Delilah (1949), The Bachelor and the Bobby Soxer (1947), and The Dolly Sisters (1945).
Some other film noirs screened were: Dark Passage (1947); Open Secret (1948); and The Postman Always Rings Twice (1946).

The Umbrellas of Cherbourg (1964)
With TCM's "Love At the Movies" theme, you expect to see plenty of romantic dramas and comedies. When it comes to the foreign film offerings, you're not surprised to see a couple of French films, either.
The French film I chose to see was The Umbrellas of Cherbourg, starring Catherine Deneuve and Nino Castelnuovo and directed by Jacques Demy. It is described as a "pop opera" and is about young lovers torn apart by misunderstandings and social restrictions. This film made Deneuve an international star at the age of 21. While there were two main songs in the film, it was not a musical, yet every line or word of dialog was sung. It was quite unusual.
Other foreign language films shown at the Festival were: French film Day for Night (1973); and Cuban-Mexican film Santo Contra Cerebro Del Mal or Santo vs. The Evil Brain (1961).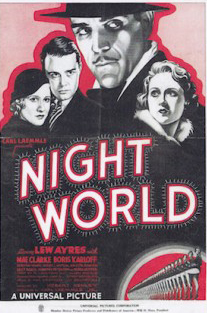 Night World (1932) and Vanity Street (1932)
Imagine Boris Karloff running a Speakeasy. Imagine him in a pre-code film. That's what Night World was all about. It also starred Mae Clarke, George Raft and Lew Ayres. The film's setting is one night at the Speakeasy, owned by the Karloff character, amidst bootleggers, killers, chorus girls and gamblers. Sara Karloff, daughter of Boris Karloff, attended the screening.
Helen Chandler's character in Vanity Street breaks a drugstore window so that she can go to jail and get off the streets. Charles Bickford stars as the police officer on her case, who sends her to his apartment instead and then gets her a job as a chorus girl. It's actually a very tame pre-code since the leads' relationship is platonic.
Other pre-code films screened were Blood Money (1933) and Merrily We Go To Hell (1932).

When Worlds Collide (1951)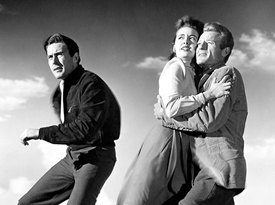 The sci-fi film, When Worlds Collide, was very thought-provoking. Scientists discover Earth is on a collision course with a wandering star and doomsday is imminent. John Hoyt plays an evil tycoon, who is helping to finance the building of a space ark to save a small portion of the human race, mainly himself. Barbara Rush, who played the daughter of the scientist heading up the project, was present at the screening to introduce and discuss the making of the film, which won an Oscar for special effects. Despite obstacles and with the clock ticking, the space ark manages to take off just before the approaching star triggers earthquakes, volcanic eruptions and a tidal wave that floods New York City. It made me wonder if I would hop aboard a space ark to travel into the unknown.


When the Festival ends, I always have some regrets. Although TCM makes scheduling improvements each year, it is still difficult to see more than 10 or 12 films out of the 80 films screened. This year was no different. I enjoyed the silent films I saw so much that I wish I had squeezed in the silent western double feature The Great K&A Train Robbery; and Outlaws of Red River. All along, I had intended to see The Dolly Sisters, a (1945) nitrate film about the famous vaudeville performers, portrayed by Betty Grable and June Haver. At the last minute, I changed my mind and went to TCM's closing night party instead. It was a great party that celebrated the 25th anniversary of the TCM network. Maybe I'll be more decisive next year.
Muller's dream comes true, an interview with Jacqueline Bisset
Contributed by Linda McCord
International film star Jacqueline Bisset was on hand for the screening of the film, Day For Night, a 1973 French Film directed by François Truffaut. She discussed the making of this film, as well as other highlights of her career. TCM Host Eddie Muller interviewed her, which was something he said was a dream come true. Watching her film, Day For Night, had a profound effect on him during his adolescence and helped to set him on his career path.
He told about skipping school at age 15 to watch this film and Mean Streets, a film by Martin Scorsese. He was so affected by these films that he decided he wanted to pursue a career related to films in some form or fashion and to be around creative people. Muller is founder and president of the Film Noir Foundation and has been instrumental in restoring and preserving films, which would otherwise be lost.
Day For Night is a film about the making of a film and is fraught with almost all of the challenges a filmmaker might possibly encounter such as: an unexpected pregnancy, an aging star who can't remember lines, another star recovering from an emotional breakdown and the sudden death of one of the actors before the film has wrapped.
Bisset said that it was somewhat confusing for the actors because their director, Truffaut, was also playing the director in the film and the cinematographer played a role in the film, as well. She feels that this film was very important to her career and she could not have imagined that she would be asked to be in the film.
She recalled that she had followed Truffaut's career with awe. When she got the call to be in the film, she thought at first that it was a joke. She described her co-star, Valentina Cortese, as a wonderful person who was great in the film and said that she was the most beautifully dressed person she had ever seen.
Bisset also reminisced about her 1981 film, Rich and Famous, which was the final film directed by George Cukor. She said that it was very well-written and that everyone loved the script. Cukor was in his early eighties at the time and she described him as "feisty". She was co-producer of the film, in addition to acting in it. She learned a lot about being a woman in that role. She said it was very much a men's club back then. Despite the challenges, she loved the work.
When asked which of her films she wished more people had seen, she mentioned a film from 2001, The Sleepy Time Gal. It premiered at the Sundance Film Festival and she is proud of her work in this film. Bisset has continued to make films through the years and is excited for a film that she is about to start, Lauren and Rose.