My Take On the 2019 Sidewalk Film Festival

By Mary McCord, Editor, Classic Film Watch
I Want My MTV and Lost Weekend: Opening night double feature.
Sidewalk's opening night film turned out to be a double feature. The screening of the hour and 25 minute documentary, I Want My MTV, was preceded with a very funny short documentary, Lost Weekend. Two friends from a small town win an MTV contest in 1984 and the chance to party with Van Halen for 48 hours. The film is directed by Bradford Thomason and Brett Whitcomb.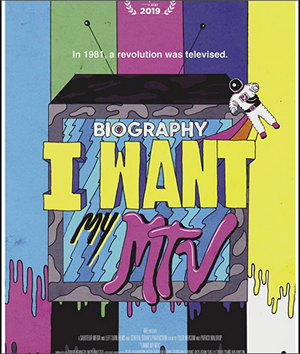 The longer film, I Want My MTV, directed by Tyler Measom and Patrick Waldrop, was informative as well as very entertaining. Its first images on August 1, 1981 were a montage of video clips from the first space shuttle launch countdown of Columbia and of the launch of Apollo 11.
MTV was launched with the words "Ladies and gentlemen, rock and roll," Those words were followed by the original MTV theme song playing while the American flag changed to show MTV's logo with the image rotating into various textures and designs.
The documentary showed many film clips of music stars from the 80s such as Madonna and Prince. It told about the formation of MTV at the time when cable TV was in its infancy. The phrase I Want My MTV was part of a promotion encouraging viewers to call cable companies and ask that the show be included on their networks.
That's the history of a popular show that began in 1981 and over the years changed its course more than once. As MTV expanded, music videos and VJ-guided programming were no longer the focus of its programming. Today, MTV's programming covers a wide variety of genres and formats appealing to young adults. It's a good thing we have YouTube where you can watch the original MTV videos. Now, we have this documentary, too.
Birmingham's own Alex Hunter, who was one of the original MTV video jockeys, spoke after the screening giving a personal, close-up look at MTV. Hunter later became one of Sidewalk Film Festival's founding board members.
Star Wars V: The Empire Strikes Back in old vaudeville theatre.
The 1980 George Lucas film, Star Wars V, The Empire Strikes Back, directed by Irvin Kershner, screened at the restored Lyric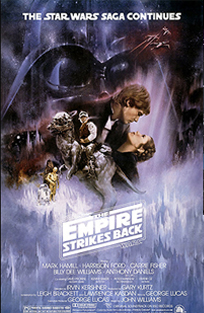 Theatre during Sidewalk.
The Lyric is an old vaudeville theatre where Mae West, Buster Keaton, the Marx Brothers and many more stars of the day performed. Known for its "pin drop" acoustics, its architecture resembles the "bell" of a trumpet, allowing for maximum voice projection. Needless to say, the audio was excellent for the screening of an action-packed classic.
Mark Hamil's Luke Skywalker proved once again that he could climb out of any perilous situation in the episode where he discovers that Darth Vader is his father. Carrie Fisher, in her youthful splendor, played her most famous role, Princess Leia. It's the episode that shows a hint of romance between Princess Leia and Captain Hans Solo played by Harrison Ford.
In 2010, The Empire Strikes Back was selected for preservation in the United States' National Film Registry by the Library of Congress for being "culturally, historically, and aesthetically significant".
Nathan Avakian presents selections from International Youth Silent Film Festival entries.
Renowned organist and composer, Nathan Avakian, brought selections to Sidewalk from entries received by The International Youth Silent Film Festival. The selections were three-minute films created by talented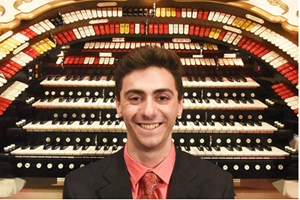 contestants, up to age 20, with Avakian composing the soundtracks.
In previous years, Avakian composed the soundtracks after the contestants completed their films. This is the typical way that music is created. This year, the contestants were challenged when they were provided a soundtrack for their genre category. Then, they had to create their film around the music.
Ten films, in a variety of genres, were shown. Avakian accompanied the films using Alabama Theatre's Mighty Wurlitzer. He also screened and accompanied a Laurel and Hardy short silent film, Bacon Grabbers. It was one ridiculously funny antic after another. He ended with a performance of the well-known organ music, Rondo in G.
This is the third year I have attended the screenings from the IYSFF. I'm always amazed at the creativity and technical skills of such young filmmakers.
Violence, Vengeance and The Nightingale
Rape, murder, violence. Hardly the topics you expect to find in a film with a sweet title like The Nightingale. This controversial Australian film by Jennifer Kent is set in an 1825 British penal colony in what is now Tasmania.
Irish convict Clare Carroll works as a servant for a stationed British Army unit commanded by Lie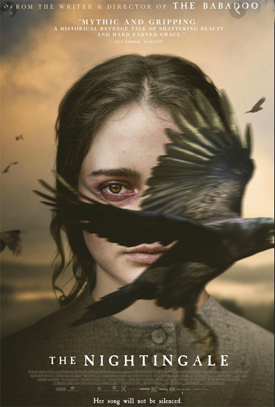 utenant Hawkins. She has a beautiful voice and is required to sing for the soldiers. Clare has completed her seven-year sentence, but Hawkins refuses to give her a letter of recommendation so that she and her family will be free. Instead, he brutally rapes her.
The situation escalates and later results in her being gang-raped and her husband and baby being murdered. These tragic events happen just before Hawkins' unit leaves on a journey through the bush to another town.
She reports the crimes, but is doubted. Enraged, she sets out through the bush to exact revenge. She meets Billy, an Aboriginal tracker, who agrees to lead her. He also suffers from a violence-filled past. They encounter rugged terrain and fighting between the original inhabitants of the land and its colonizers, now known as "The Black War".
This historical period film portrays violence at every turn and the effect of different types of discrimination—race, nationality, culture, poverty. It shows how the need for power can lead to cruelty and disregard for human life. Lieutenant Hawkins wouldn't release Clare because he would lose his power over her. Rape is about power. While fueled by grief and rage, Clare's journey of revenge elevated her from a weak and powerless position to a force to be reckoned with.
The Nightingale was severely criticized, following its initial screening in 2018 at The Sydney Film Festival, where some of the audience walked out of the theater because of the film's violent depiction of rape and murder. Whether there is too much violence or that the violence is too graphically portrayed, is a matter of opinion of the individual viewer and debatable. I was bothered by the violence, but not enough to leave such a powerful and believable story filmed on location in the wilds of Tasmania. The strong acting skills of the ones portraying Clare and Billy added to the believability of the film.
The Nightingale was released to theaters in the U.S., on a limited basis, August 2, 2019. It is currently playing at the Sidewalk Film Center and Cinema through September 5. For more info, Click Here .
The Green Fog's homage to Hitchcock
Found footage from about 100 old TV shows and classic movies set in San Francisco was the inspiration for The Green Fog, an experimental 62-minute narrative feature.

The Green Fog, commissioned by the San Francisco International Film Festival, shows a collage of footage to tell its story. It pays homage to Hitchcock, whose film Vertigo was set in San Francisco, and offers great views of the city. The color green was used throughout Guy Maddin's film much like it appears in Hitchcock's famous film.
For me, it was difficult to follow the story closely simply because I was too entertained seeing clips of some of the stars from memorable, old TV series: Karl Malden and Michael Douglas, Streets of San Francisco; and Rock Hudson and Susan Saint James, McMillan and Wife. There were many clips from an abundance of classic films and their stars, including Dark Passage and Sudden Fear along with Mel Brook's 1977 parody High Anxiety. The credits at the end were quite lengthy. For classic film admirers, this is a good retrospective.
Gloomy Eyes: 360 Degree Unique Experience
Sidewalk Film Festival offered a total of 19 short selections in their Extended Realities (VR, AR) and Interactive Experiences categories. Some were documentaries while others delved into storytelling in all types of genres.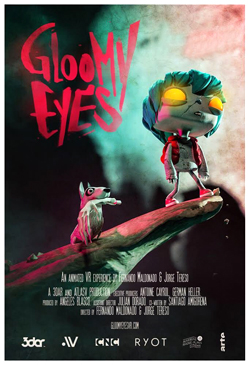 Gloomy Eyes, a popular 360 degree experience (VR), is a fantasy about a pint-sized zombie struggling to find his place in a world where conflicts exist between the zombie and human populations. Gloomy feels like an outcast until he meets a human girl who recognizes his uniqueness.
I elected to see Gloomy Eyes because it told a fictional story in this cutting edge technology and because it is on the schedule at the upcoming Venice International Film Festival. (See related article below on the restored classic film section at Venice.)
In the darkened basement of the Lyric Theatre, I put on the VR headset and entered the fantasy world of Gloomy Eyes, which was narrated by Colin Farrell and directed by Jorge Tereso and Fernando Maldonado. During this VR experience, I turned my head in all directions and even walked around to follow the story. At times, it was as though the puppet-like characters were touching me, they seemed so close. There were even special effects during the seven-minute presentation. It was a very unique experience that I would like to repeat.
Documentary follows Academy Award-winning Olympia Dukakis
Academy Award-winning actress Olympia Dukakis deserved a documentary about her life and career and she has one now titled simply Olympia by Harry Mavromichalis. This personal glimpse into her life and her struggles screened on the last day of Sidewalk.

Best known for her roles in Steel Magnolias, Moonstruck and Mr. Holland's Opus, she has made around 60 films and acted in numerous television roles.
The documentary starts on her 80th birthday and continues for three years as she takes on the roles of actor, teacher, wife, mother and social activist. Her husband Louis Zorich, who died in 2018, was by her side for 56 years, loving and encouraging her.
Along with Olympia and her daughter and granddaughters, viewers are transported to her ancestral home in Greece. One of the most memorable scenes was when she came upon four older Greek women sitting on a bench. They recognized her immediately. During her conversation with them, she found out that they were long-time friends who lived in the neighborhood and met almost every day on the bench to talk about their families and lives. When Olympia walked out of earshot, she wistfully compared their simple lives with her own.

ASFA jazz ensemble entertains before screening of The Cat and The Moon.
The audience for Sidewalk's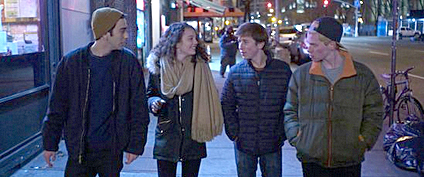 closing night film, The Cat and the
Moon, received an unexpected
treat. A jazz ensemble from the
Alabama School of Fine Arts entertained them before the screening. The film is about a teenager living in New York City who has many problems. Life is difficult for Nick. His love and talent for music are the only things that offer him hope. The film was written and directed by Alex Wolff.