SATURDAY, APRIL 30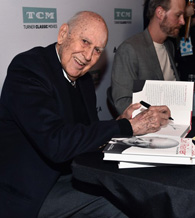 TCM celebrated the life and career of Director, Writer and Actor Carl Reiner with a special video tribute and an extended conversation after the screening of his film, Dead Men Don't Wear Plaid. Afterwards he met fans in the lobby of the theatre and signed copies of his books.
(Photo by Alberto E. Rodriguez/Getty Images for Turner.)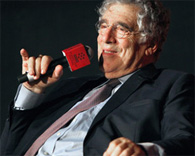 Actor Elliott Gould speaks onstage at The Long Goodbye screening during day 3 of the TCM Classic Film Festival 2016 in Hollywood.
(Photo by Rachel Murray/Getty Images
for Turner.)

Actress Anna Karina spoke before the screening of Band of Outsiders. (Image courtesy of TCM.)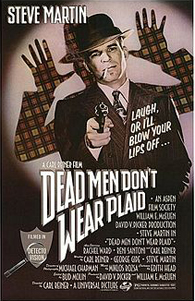 Dead Men Don't Wear Plaid (1982) comedy/parody.
During the introduction to Dead Men Don't Wear Plaid, Eddie Muller, founder of the Film Noir Foundation said, "It's an affectionate tribute to film noir. It took two immense comedic geniuses to pull this off and that would be Steve Martin and Carl Reiner." The movie is the story of a private eye investigating the murder of the world's leading cheese scientist.
He talked about the remarkable cinematic slight of hand that was at work in this film. New footage had been shot with Steve Martin and it was intercut with the original footage from vintage noir films. "It is truly a work of movie magic."
Some of the original noir scenes spotlighted Ingrid Bergman, James Cagney, Humphrey Bogart, Burt Lancaster and many more.
Muller said Reiner was savvy enough to get two people who worked on many of the original noirs to work on this movie. Costume Designer Edith Head designed vintage costumes for Martin and his leading lady, Rachel Ward. Miklós Rózsa composed the score. Rózsa was responsible for the scores for Double Indemnity, The Killers and many more noir films.
Muller said that Hollywood was actually making fun of film noir while they were making the original film noir. He mentioned that Bob Hope's My Favorite Brunette was already a parody of film noir. Alan Ladd appears in it mocking himself in 1946. Another 1946 noir parody was The Dark Corner with Clifton Webb parodying his role as Waldo Lydecker in Laura.
After the screening, a video tribute was shown highlighting Reiner's career. Then Illyana Douglas interviewed the director.
In response to Douglas's comments that his comedy seemed to change with the times and was always current, he said, "Comedy hasn't changed at all. We reflect on the mores of the times." This was one of the most serious statements he made in the interview. Reiner cracked jokes, told amusing stories and spoke entertainingly in the language of humor throughout.
At the end, he shared a parlor joke that Eddie Foy, Jr., son of the famous vaudeville star, showed him that he thought was very funny. "I want to test it on you. If this works, then you will have something that you will remember and maybe even use to make someone laugh." He told the audience to shut their eyes and imagine they were riding in a horse-drawn cart and the reins were in their hands. After a pause the audience was told to open their eyes. And there was Reiner holding imaginary reins and bumping up and down in his seat. The audience exploded with laughter and Reiner said, "I've left you with a legacy."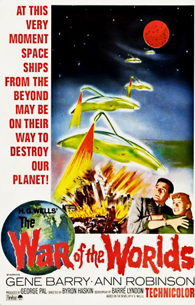 The War of the Worlds (1953) sci-fi
Craig Barron, film historian, and Ben Burtt, sound designer specializing in the sci-fi and fantasy genre introduced The War of the Worlds (1953), showing clips and explaining some of the technology used to create the special effects, both sound and visual.
In The War of the Worlds, Earth is suddenly and unexpectedly invaded by Martians and American scientist Clayton Forrester (Gene Barry) searches for any weakness that can stop them. The Martians conduct their invasion inside giant metal tripods, which walk strategically throughout the area, firing heat rays to destroy lives and property.
A nuclear strike fails due to the integrity of the Martian war machines' shields, but Forrester remains hopeful they can fight the Martians by studying their blood samples and finding a biological weakness.
Loosely based on H. G. Well's 1897 novel of the same name, this was the first of five film adaptations. It was modernized from the original story, as were subsequent adaptations.
Ann Robinson, star of the film, was in the audience to see it once again on the big screen. She was introduced and spoke briefly about some mysterious publicity stills that the presenters had acquired. These stills showed her dressed as an exotic space girl. She told the audience that she had lost Edith Head's beautiful sketch of the costume and she said she didn't think the publicity stills had been used. "It was just for publicity and for fun." She also said there was a running joke on the set about code numbers for facial expressions that she was to use in the film.
The War of the Worlds won an Academy Award for Best Visual Effects and had been selected for preservation in the National Film Registry of the Library of Congress.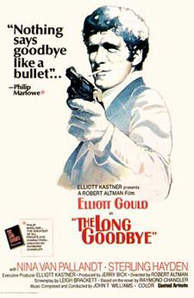 The Long Goodbye (1973) neo-noir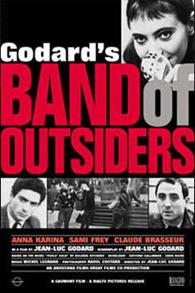 Band of Outsiders (1964)
French New Wave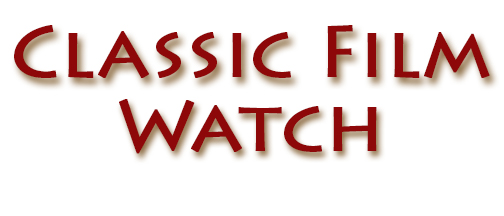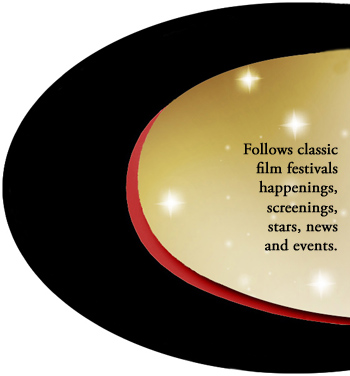 ---
Classic Film Watch Reviews and Articles by Mary McCord
©2016 Classic Film Watch
classicfilmwatch.com is a non-commercial, film review and informational website. All photos or artwork, unless otherwise identified, are either in the public domain or believed to satisfy the four-point criteria of the U.S. copyright law for fair use. No infringement is intended. Photos and artwork are not used for commercial purposes.


TCM Classic Film Festival 2016
FRIDAY, APRIL 29
Academy Award-Winning Director
Francis Ford Coppola
honored at Hand & Footprint Ceremony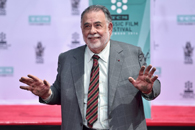 Francis Ford Coppola displays his cement stained hands at the hand and footprint ceremony at the TCL Chinese IMAX Theatre. (Photo by Alberto E. Rodriguez/Getty Images
for Turner.)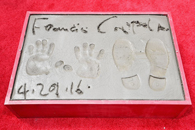 The Result
(Photo by Alberto E. Rodriguez/Getty
Images for Turner.)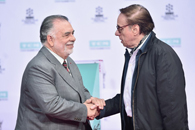 Francis Ford Coppola greets his friend, Writer/Director Peter Bogdanovich, at the ceremony. Coppola later introduced his film, The Conversation, which was screened at the Festival. (Photo by Alberto E. Rodriguez/Getty Images for Turner.)

Click Here for news about Backlot, TCM's new fan club

Click Here for news about FilmStruck, TCM's new streaming movie service


Classic Film Watch:
Coverage of Entertaining, Remarkable, Rare
And Significant Films
(Articles by Mary McCord, Editor
unless otherwise noted)



Special presentation by French Archivist Serge Bromberg
"Between 50% to 80% of the film that was shot in the last 120 years has disappeared," French archivist Serge Bromberg told the audience at the beginning of his program, Retour de Flamme: Amazing Film Discoveries. He said the reason for this was that many of the films' stars and producers disappeared, storing the cans of film was always a problem, wars intervened and for the first 40 years of cinema, there was not an archive. Today, there are still many missing films.
Bromberg dedicated the program to showing films that were lost at some point, but had been recovered. Early on, he showed clips from Buster Keaton short films, including Haunted House and The Blacksmith (1922). He also showed Charlie Chaplin's short film, The Bank (1915).
But the most fascinating short film that had been discovered and restored was The Battle of the Century (1927), starring Stan Laurel and Oliver Hardy. Until 1979, when the first reel of the film was discovered, all that had survived was two minutes of the classic pie fight that had been on the second reel. In 2015, silent film expert, Jon Mirsalis, found the second reel and handed it over to Bromberg for restoration. It is missing one minute at the end. The film is also notable as depicting the biggest pie fight in the history of cinema, using 3,000 pies. The first cinema pie wasn't thrown in this film, and as history of comedy films show, it wasn't the last. The audience enjoyed the treat of seeing the biggest pie fight in its entirety for the first time in decades.
Bromberg made the act of film discovery and restoration seem like a fascinating adventure and he told some humorous stories along the way. He also talked about how to find a film and how to get it restored.

He Ran All The Way (1951) film noir
Blacklisted Director John Berry:
He ran all the way to Paris

The John Garfield film, He Ran All The Way (1951), was made at the peak of Director John Berry's career, which also coincided with the peak of the blacklist period. "Nearly all the key personnel in this film were about to be directly impacted by the blacklist," Todd McCarthy, film critic for The Hollywood Reporter said in the introduction for the rare screening of the film noir. "Their careers were effectively finished for a decade after this age in Hollywood."
Garfield was blacklisted when he refused to name names two months before the film's release. This would be his last picture. A year later he suffered a fatal heart attack at age 39. By the time the film came out, Berry had been blacklisted and this would be the last film that he would make in the U.S. for 20 years. Screenwriter Dalton Trumbo co-wrote the script with Hugo Butler, but was given no credit and was blacklisted, as well.
Dennis Berry, the director's son, was present for the film's introduction and he told a compelling story of what it was like during the traumatic time their family had to flee the United States.
"At six, you do not exactly know what it is to be blacklisted and that your father has problems with the FBI," Berry said. His father told him that the FBI wanted him to testify at the Committee (House Un-American Activities).
"When he knew that the FBI was at the door, he ran through the house to the kitchen out the back window, through the yard, jumped over a fence and ran away." He said his father hid with a friend for a few days, found a car that was not in his name and drove nine days to Canada.
"When he was driving to Canada, he would get lonely, as he told me afterwards. When he'd get hungry, he'd go into diners and would see papers with his picture on the front page. He'd get scared that he would be recognized, so he'd eat and keep on driving. In Canada, because he had his passport with him, he managed to grab a plane to Paris where he landed and took refuge." Berry said that one of the reasons his father chose France was because of the country's tradition of human rights and that political refugees were welcome there.
Berry's mother sold their house discreetly and they went to New York. "I found myself on this boat and one day we arrive at a port in France and then went on to Paris. One of the great things that happened to me as a child is that, as my father was blacklisted, he became very close to us and we had more of a family life during our French stay." He also said they had a wonderful, warm community of blacklisted writers, who were refugees from the U.S.
Berry said that anyone with a progressive point of view during the "red scare" was in danger of being blacklisted. "You didn't have to be a communist."
In talking about He Ran All The Way, Berry said that there is a sense of urgency, paranoia, threats and claustrophobia in the film noir. He thinks this comes from all the people working on the film because most of them were in fear of being blacklisted.
While his father eventually returned to the U.S. and worked as a director again, Berry continued to stay in France after he grew up and lived much of his life in Paris.
At the beginning of the film's introduction, McCarthy acknowledged the presence of a special guest in the audience. Actor Norman Lloyd, now 101 years old, played a small, but vital supporting role in He Ran All The Way. The audience responded with a very long and loud standing ovation as Lloyd waved from his seat.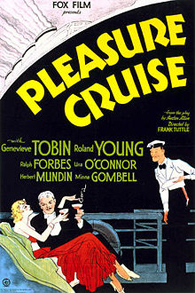 Pleasure Cruise (1933)
pre-code comedy.
In the pre-code times when Pleasure Cruise (1933) was made it was considered a naughty film showing the back of a naked woman in the beginning. This is a rarely seen Fox film where several character actors were showcased in major roles in the film, including Roland Young and Genevieve Tobin.
The plot is about a married couple. The wife is a working woman and the man is a house husband, who tells his wife he has lost his fortune. They decide to take separate vacations. She goes on a cruise, but her husband doesn't go on a vacation. Instead, he takes a job in the ship's barbershop undercover to keep an eye on her. Eventually, they are both pursued by other passengers.
Like other pre-code films, it contains risqué situations and off-color dialog and it really heats up as the husband becomes more and more jealous. A reviewer in 1933 called it dangerously risqué.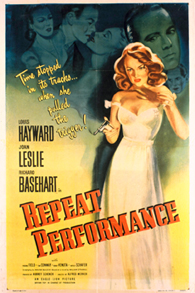 Repeat Performance ( 1947) film noir
Repeat Performance was described as film noir meets The Twilight Zone. It was a very rare film, almost impossible to find until the Film Noir Foundation restored it.
Joan Leslie stars in the film as a temperamental actress who kills her philandering husband on New Year's Eve. This takes place in the first scene, firmly hooking the audience.
When she wishes she could relive the past year, her wish comes true. She's challenged with fighting fate and wondering if things would end the same. The film also stars Louis Hayward as her husband, Virginia Field, Tom Conway and Richard Basehart in his movie debut.
Eddie Muller, founder of the Film Noir Foundation, introduced the film, saying that in the 18 years he has been working with classic noir films, the most requested movie has been Repeat Performance. "It really sticks in the minds of people who see it. It was a thrill for the Foundation to actually find original elements for this movie and for us to be able to do a complete restoration of the film in conjunction with the UCLA Film and Television Archive and the Packard Institute for the Humanities. Now this film is back in circulation."
Muller told the story of Joan Leslie, who began acting in films when she was a child and as a teenager was cast in older roles. In the mid-1940s, she wanted to do more challenging roles. So, she took Warner Brothers to court seeking to be released from her contract. Jack Warner wanted to blackball her from other major studios. In 1947, she signed a contract with lesser-known Eagle-Lion Films. Repeat Performance was her first film with this studio.
"The film has a fantastically written screenplay," Muller said. "It's the film noir version of It's A Wonderful Life."


SUNDAY, MAY 1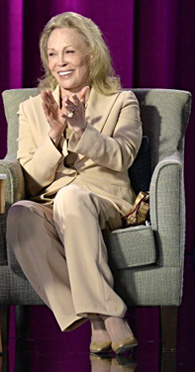 Actress Faye Dunaway on stage during the recording of Live From the TCM Classic Film Festival. She spoke about her career here and later, at a separate event, she introduced her film, Network. (Photo by Edward M. Pio Roda, courtesy of TCM.)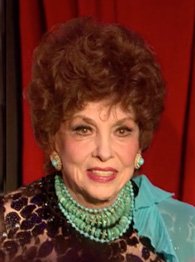 Gina Lollorigida participated in a conversation about her life and career on the last day of the TCM Classic Film Festival. (Image courtesy of TCM.)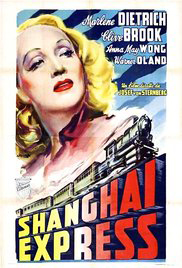 Shanghai Express (1932)
stylish drama.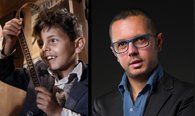 Salvatore Cascio shown as a child in 1988's Cinema Paradiso and today.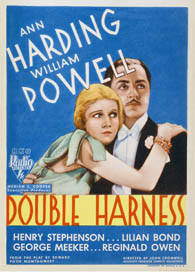 The pre-code comedy, Double Harness (1933), was screened twice at the Festival to packed theatres.
Birmingham Sidewalk Film Festival 2016
Screens Over 250 Films:
Shorts, Documentaries & Full-Length Narratives

Posted by Mary McCord, Editor, 8-30-16
It was difficult to pick the films to watch during Sidewalk because of the abundance of screenings all around Birmingham's theatre district. The films I saw were both entertaining and thought-provoking. Following are some of my observations.
Opening Night Film: In A Valley of Violence

While most westerns explore good and evil with violence as a component, this film casts Violence in a major role. None of the characters, including the protagonist, are likeable or could be considered the good guy. The director and screenwriter, Ti West, known for his horror films, sparingly uses humor to lighten the darkness of the film. This momentarily gives the film a spoof-like quality until the action draws the viewer back to the violent sequence of events.
Ethan Hawke stars as Paul, a loner and drifter. The film doesn't disclose much about Paul. Through a flashback, he is shown wearing a Civil War uniform and the audience is left to speculate if he still suffers from the effects of the war. His goal is to reach Mexico until he happens upon Denton, Texas, a practically deserted mining town located in an area known as the "Valley of Violence." In a bar, he has a run-in with Gilly, the local bully (James Ransone) who turns out to be the son of the town's Marshal (John Travolta). He is also the Marshal's deputy. Gilly starts a fist fight and Paul knocks him out with one punch and so begins this revenge western.
The Marshal talks to Paul and senses that he had been a military man, trained to kill. When he orders Paul to leave town, the angry Gilly and two of his trouble-making cohorts follow. They viciously attack Paul at night, beating him and killing his dog and only friend, Abby. He wants revenge.
This is when you begin to discover that Paul is missing a moral compass. Or, if he had one, it is broken and spinning wildly out of control. Instead of guiding him on his path to Mexico, it points him back in the direction of Denton. Once there, Paul methodically goes about exacting cruel, merciless revenge.
It wasn't the violence that bothered me the most about the film. I never could
The film has all the elements of a typical western film, including a wonderfully bold score reminiscent of classic westerns. The strong performances of such experienced actors as Hawke and Travolta gives the film a certain degree of credibility in the western genre. The audience seemed to like the film, laughing at the humor and giving a rousing round of applause at the end. Ti West spoke about the film, explaining various aspects of its creation. In A Valley of Violence screened in the Alabama Theatre, which was packed to capacity. The old movie palace was built in 1927 and seats 2,500. The film is scheduled to be released to theatres October 31.
Documentary: First Lady of the Revolution
The story of Henrietta Boggs, a young Alabamian, who went to Costa Rica in 1941 to visit relatives sounds like the plot of a romantic adventure novel. There, she met José "Don Pepe" Figueres Ferrer, fell in love and married the landowner, who was destined to lead the country to democracy. This was the subject of the documentary, "First Lady of the Revolution" that screened at First Church during Sidewalk.
The documentary was part history and part life story of the amazing Henrietta Boggs who left her sheltered life in Birmngham to live in a country undergoing uncertain times. The 98-year-old was in attendance at the screening and spoke afterwards. Her autobiography, Married To A Legend Don Pepe, offered much information for the filmmaker, Andrea Kalin, as did extensive research both in the U.S. and Costa Rica. The next day after the screening, Ms. Boggs gave a reading from her book at Revelator Coffee Company.
When she first met Figueres, their courtship consisted of motorcycle trips around the exotic countryside of Costa Rica. They married soon after and had two children.
Figueres, a champion of democracy, established himself at the head of the Social Democratic Party. Rafael Angel Calderón Guardia was president at the time. In 1942, Figueres was exiled for criticizing Calderón's administration on the radio. His wife suggested this means of communication. He and his wife spent some of this time in Mexico, returning to Costa Rica in 1944.
In 1948, Calderón "won" a crooked election against Otilio Ulate, a candidate supported by Figueres and other opposition groups. This led to civil war, placing Henrietta's family in danger. Figueres led a rebel army, which defeated Calderón's communist supporters. After 44 days, the war ended when the rebels, having won a series of battles, were poised to take the capital, San José.
At this time, a "Junta Fundadora" or Founding Council was established to govern the country temporarily. Figueres was named head of the Junta which governed Costa Rica for 18 months before Ulate was finally handed the Presidency he had rightfully won in the 1948 election. As head of the Junta, Figueres was essentially President during this time, enacting numerous popular reforms and directing the creation of a new constitution. Henrietta's constant advocacy for women's rights, particularly voting rights, was hugely influential in Figueres' own advocacy for those rights once he attained the presidency. In later years, he served two other terms as President.
In 1952, the couple divorced and Henrietta returned to the United States with their children. Today, Ms. Boggs lives in Montgomery and is a frequent contributor to the Montgomery Advertiser. This fascinating documentary will be available in October, 2016. For more information, visit www.firstladyoftherevolution.com.
UPDATE: This film won the Sidewalk Jury Award Honorable Mention and the Audience Choice Award for Best Alabama Film.

Classic Inspired
Raiders of the Lost Ark: The Adaptation
When the original Raiders of the Lost Ark premiered in 1981, there were three 12-year-old boys in an audience in Mississippi who were affected for life. Eric Zala, Chris Strompolos and Jayson Lamb loved the film so much that they spent their summers and allowances on remaking the film, shot by shot, recruiting other friends to fill the roles.
It didn't always go smoothly. There were several calamitous events involving fire, but they pressed on. In 1989, they considered the film to be finished except for one scene that was impossible to recreate due to the danger of large, spinning airplane propellers.
Fast forward to 2014 when members of the cast raised money so they could re-unite and film the one scene they were not able to re-create as teenagers. Again, explosions and fire threatened the project, but they pressed on and finished just as their time and money ran out. The scene was added to their 1989 film and Sidewalk Festival goers were treated to this new version.
The film stays true to the original. The kids had to make do with whatever they could come up with for props, costumes and sets. They even had to settle for a dog to play the monkey, since there was a shortage of monkeys in Mississippi. Still, they did a fine job on such a limited budget and it is obvious that they were focused and dedicated to the project.
The actors appear throughout the film at different ages which adds humor. Of course, the airplane scene stands out as being of the highest technical quality. The actors were all in their forties and for the first time, fit the characters they were playing.
Eric Zala, who directed the film and played Belloq, was present to introduce the film. Chris Strompolos played Indiana Jones and Jayson Lamb was the cinematographer.
The film was great fun and the theatre was filled with laughter. It was shown in the Carver Theatre as a double feature along with the documentary, Raiders! The Story of the Greatest Fan Film Ever Made. For more information, check out their website www.raidersguys.com .Click here to read a review of the documentary from last year's Sidewalk.

Retro Film: Stay Hungry
Each year Sidewalk Film Festival selects a retro film for screening. This year, they chose Stay Hungry, a 1976 comedy-drama film set in Birmingham and nearby Alabama locations. Bob Rafelson directed the film and Charles Gaines wrote the screenplay which was adapted from his novel.
A young businessman, Craig Blake (Jeff Bridges), gets involved in a shady real-estate deal. In order to close the deal, he needs to buy a gym building to complete a multi-parcel lot. When he visits the Olympic gym, he finds himself romantically interested in the receptionist (Sally Field) and drawn to the carefree lifestyle of the Austrian body builder "Joe Santo" (Arnold Schwarzenegger) who is training there for the Mr. Universe competition.
Sam Tenenbaum, Jr, The Great Kaiser, was present to help with the introduction of the film and told some amusing stories. Back in 1975, he was wrestling professionally and training at the Olympic gym. While there, he met Arnold Schwarzenegger and was invited to a pool party at the motel where the actors were staying. They were sitting poolside talking when Schwarzenegger asked what name Tenenbaum used as a professional wrestler. At the time, he went by Bob Kaiser "You need something better." Schwarzenegger told Tenenbaum. 'You should put a mask over your head, say you're from Austria like me and call yourself the Great Kaiser.'" Eventually, Tenenbaum followed his advice and has been known as The Great Kaiser ever since. He even wore his mask for the introduction.
Schwarzenegger won a Golden Globe for "Best Acting Debut in a Motion Picture" for his portrayal of Joe Santo in Stay Hungry. This was his first speaking role in a film. He and his co-stars Sally Field and Jeff Bridges went on to bigger and better roles. Other actors in the film who became better known are: Ed Begley, Jr., Joanna Cassidy, Alabama native Fannie Flagg and Robert Englund, best known for playing Freddy Krueger in the Nightmare on Elm Street film series.
Of course, the city of Birmingham, its streets and landmarks, made this film immensely popular with the large audience. For me, my favorite part of the film is when Bridges and Schwarzenegger go to the nearby countryside. Schwarzenegger's character plays a fiddle and jams with a Bluegrass band. It was very entertaining to hear the lively music and watch Bridges' character clog with the best of the country dancers.
Stay Hungry is available on Netflix and Amazon Video.
Closing Night Film: Little Sister
Sidewalk closed the Festival with Little Sister, a comedy-drama film with a big heart. It's the story of a nun, Colleen (Addison Timlin), who is readying to take her final vows when her mother contacts her that her brother has come home. She immediately arranges to borrow a car to go back to North Carolina. She hasn't spoken to her parents in years, having chosen a self-imposed exile.
Once home, she finds her brother (Keith Poulson) living in the guesthouse, a recluse who has returned from the Iraq war, disillusioned, disfigured and depressed. You soon discover that her eccentric parents, especially her mother (Ally Sheedy), relies on certain additives to their diet (marijuana and mushrooms) to face the realities of life. Her sister, who does not live at home, seems preoccupied with her own life.
Forget any other film you have seen about a nun. Forget any stereotypes. This film is not about Colleen questioning her decision to become a nun, although she repeatedly calls in to the convent asking for extra time at home, which makes you wonder. It is about family and coping—rallying around and supporting family members in need.
It's difficult for her to reach her brother in his depression, but she manages to get him out of the guesthouse to visit a friend of theirs and go to the family's Halloween party. When Colleen was a teenager, she was into the goth culture—music, black lipstick, heavily lined eyes—the works. Being at home during Halloween, she revisits the culture. Her mother bakes cupcakes, secretly laced with marijuana, for the party.
Of all the films I watched at Sidewalk, this was my favorite. This is because it was a heartfelt story with fresh characters and ideas that explored the sister-brother relationship rather than the more common sibling relationships of sister-sister or brother-brother.
The story idea came from Zach Clark and Melodie Sisk. Clark was also the screenwriter, director and producer for the film. Other producers were Sisk and Daryl Pittman. For more information, visit www.littlesisterthemovie.com.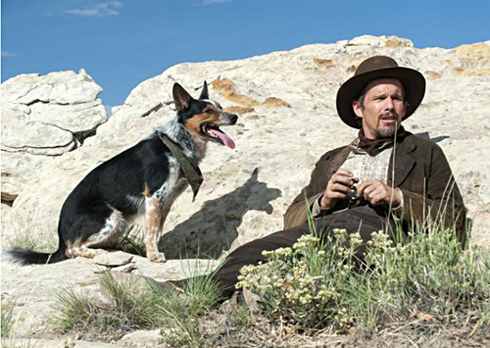 Ethan Hawke starred In A Valley of Violence as a troubled
drifter. He is shown with Jumpy, the dog that played Abby.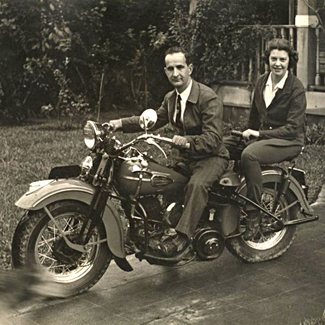 José "Don Pepe" Figueres Ferrer and Henrietta Boggs (early 1940s)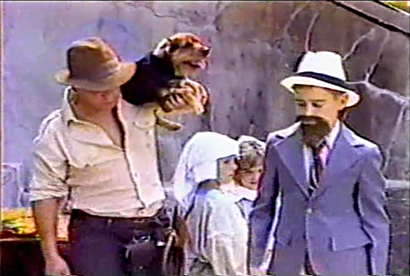 Scene from Raiders of the Lost Ark: The Adaptation. Chris
Strompolos's dog, Snickers, starred in the film as the monkey.

––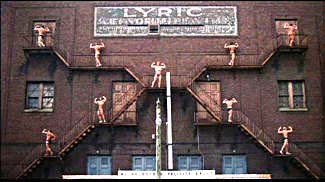 Bodybuilders pose on the Lyric Theatre's fire escape at the end of the 1976 film, Stay Hungry. The old vaudeville theatre was recently renovated and the fire escape is no longer there. The Lyric was built in 1914. Major stars such as the Marx Brothers, Mae West, Sophie Tucker, Will Rogers and Milton Berle played the Lyric. It is now a performing arts center and one of the venues for Sidewalk.
.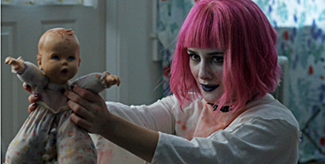 Scene from Little Sister, a comedy-drama about a nun who returns home to deal with family concerns. While there, she revisits her goth past.


THURSDAY, APRIL 28
Highlights from the
Red Carpet
at the 40th Anniversary
Screening of
All The
President's Men
TCL Chinese IMAX Theatre
Red Carpet Photos by
Mary McCord
Classic Film Watch Editor
(unless otherwise noted)

Gina Lollobrigida on the red carpet during opening night festivities at the TCM Classic Film Festival. During the Festival, she will introduce two of her films that are being shown, Trapeze and Buona Sera Mrs. Campbell. TCM will also conduct an hour-long interview with her about her life and career. She is in her second creative career as an artist, sculptress and photographer.
(Photo by Mary McCord,
Classic Film Watch.)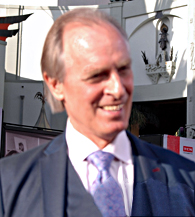 Keith Carradine spoke about his varied career on the red carpet. "I do a lot of theater, movies and television, which I love. In terms of genres, I'm happy to now be working on a television series where I'm wearing suits every week because it reminds people that I don't only wear denim and cowboy hats. One of the things I've always strived for is to not be locked into anything. So, I try very hard to mix it up as often as possible. And so far, so good." He will introduce three films: Dark Victory, Love Me Or Leave Me and She Wore
A Yellow Ribbon.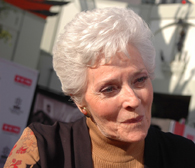 Batman The Movie's Catwoman, Lee Meriwether attended the red carpet event and later introduced the Roosevelt Hotel poolside screening
of the film, along with
Batman, Adam West.

Actor Chris Lemmon's current project is a one-man show where he impersonates his father, legendary actor Jack Lemmon. His physical appearance is much like his father's. "The Lemmon doesn't fall far from the tree," he joked. "If it did, I would be in trouble, because I do the whole show in his voice." Lemmon was at the TCM Festival to intro-
duce his father's film, My
Sister Eileen.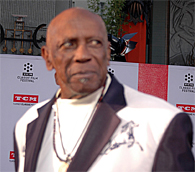 Actor Lou Gossett, Jr. attended the red carpet event.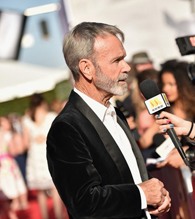 This is the second TCM Festival for former child and adult actor, Darryl Hickman. He said that his favorite film to work on as a child is Grapes of Wrath. As an adult actor, it is Sharky's Machine. "I love being a heavy." He told Burt Reynolds, who also starred in the film and is an old friend of his, "I never get to play a part like this. What happened? He said, 'You are the perfect heavy, Hickman. That's why.'" He is at the Festival to introduce one of his films, Tea and Sympathy. (Photo by Mike Windle/Getty Images for Turner).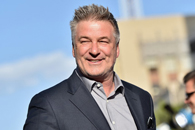 Alec Baldwin attended the premiere of All The Presidet's Men. He later interviewed Angela Lansbury at the instroduction to her film The Manchurian Candidate. (Photo by Mike Windle/Getty Images for Turner)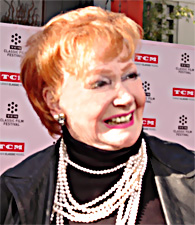 Actress Ann Robinson attended the opening night festivities. She was also present at the screening of her film, The War of the Worlds
(Photo by Mary McCord,
Classic Film Watch.)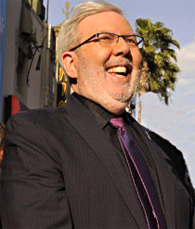 Film Critic and Historian Leonard Maltin talked about his favorite genre. "When I was growing up I would have said comedy. But then, comedy took a left turn toward being cruder, raunchier. I like some of those films. I think The Hangover is a hilarious movie. So, I'm not saying I'm for or against. What happens unfortunately, when one film does something and they do a sequel or someone else does a follow-up, they feel like they have to raise the bar or lower the bar as the case may be. So, I no longer say comedy. I just want to see a good movie."
(Photo by Edward M. Pio Roda, courtesy of TCM.)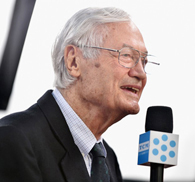 Director, Producer and Actor Roger Corman attended the red carpet event and screening of All The President's Men. (Photo by Mary McCord,
Classic Film Watch.)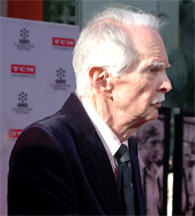 Ted Donaldson, former child actor, was present at the Festival to introduce A Tree Grows in Brooklyn (1945). He played the 12-year old Neeley in the film.
Classic Film Watch:
Coverage of Entertaining, Remarkable, Rare
And Significant Films

By Mary McCord, Editor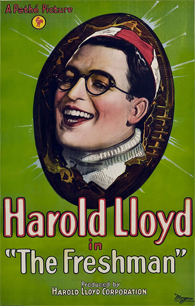 The Freshman (1925) Harold Lloyd.
Harold Lloyd's slapstick, silent comedy, The Freshman, was screened to a very receptive audience at the historic Roosevelt Hotel's pool. Full of clumsy actions and embarrassingly humorous events, the movie was thoroughly entertaining. Lloyd's character thinks he is on the college football team, but in reality, he is actually a tackle dummy and waterboy. This is the basis for much of the humor which continues even after he gets his big chance to play. Thomas Golubic created a live DJ re-score with new music mixes that gave the silent a bit of a modern lift. The Freshman was considered to be Lloyd's most popular movie and is credited with creating the college football genre.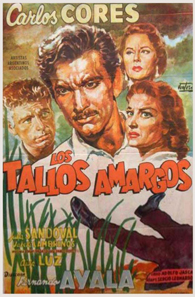 Los Tallos Amargos (1956) Argentine film noir.
The 1956 film noir Los Tallos Amargos has been seen little outside of Argentina and was considered to be a lost film until it turned up in a private collection in 2014. The dark film was brought out into the light through the interest and work of Eddie Muller, president of the Film Noir Foundation. This organization, along with the Hollywood Press Association, funded restoration of the film by UCLA Film and Television Archives. The film has many noir elements—a story about a fraudulent get-rich-quick scheme, distrust of one partner for the other and the effect of paranoia which leads to the dreaded noir ending. The dark film was so engrossing, you hardly realized you were reading subtitles. Truly a noir gem that sparkles only in the minds of confirmed noir fans.