Theme: You Ain't Seen Nothing Yet
Celebrated Enduring Film Legacies
April 13-16, 2023
Thursday, Apri l3 Opening Night Film:
Rio Bravo (1959 Warner Bros.)
World Premiere of the 4K Restoration in Partnership with The Film Foundation
Special Guests: Actress Angie Dickinson
Film Foundation Board Members Steven Spielberg and Paul Thomas Anderson

Highlights From The 14th Annual TCM Festival
Thursday, April 13:
Opening Night of the 14th annual TCM Classic Film Festival kicked off with a screening of Rio Bravo (1959) in celebration of Warner Bros.' 100th anniversary, featuring a conversation with Warner Bros. Discovery CEO David Zaslav and The Film Foundation Board members Steven Spielberg and Paul Thomas Anderson. They talked about the world premiere of Rio Bravo's 4K restoration completed in partnership with The film Foundation and the mission of The Film Foundation.Rio Bravo star Angie Dickinson, was also present at the screening.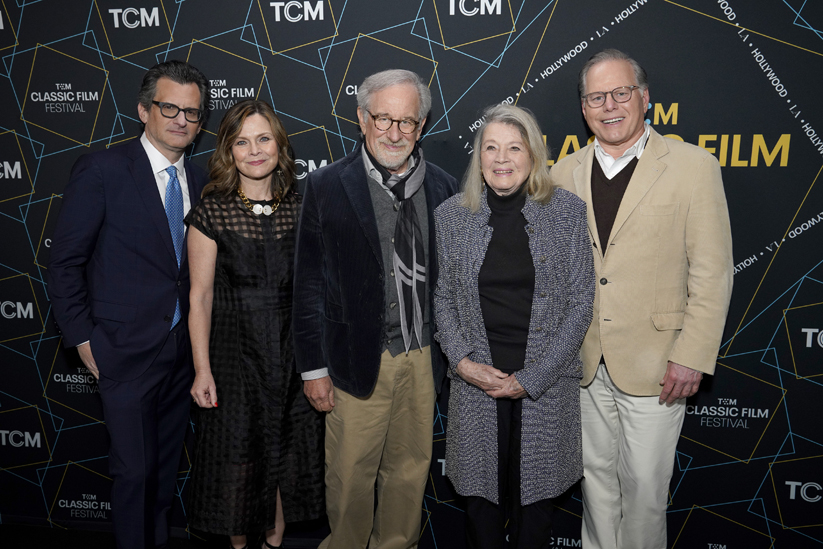 (L-R) TCM host Ben Mankiewicz; General Manager, Turner Classic Movies Pola Changnon; Director and Film Foundation Board Member Steven Spielberg; Actress Angie Dickinson; and President and Chief Executive Officer of Warner Bros. Discovery David Zaslav attend the opening night gala and world premiere of the 4k restoration of "Rio Bravo" during the 2023 TCM Classic Film Festival at TCL Chinese Theatre on April 13, 2023 in Hollywood, California. (Photo by Presley Ann/Getty Images for TCM)
Friday, April 14 Highlights:
TCM host Ben Mankiewicz joined special guests George Clooney and director Steven Soderbergh for a screening of Ocean's Eleven (2001). Other special screenings included:
70th anniversary poolside screening of Beach Party (1963) hosted by TCM host Dave Karger with special guest Frankie Avalon.
World premiere restoration of Penny Serenade (1941) with director and screenwriter Alexander Payne and George Stevens Jr., writer/director and the son of Penny Serenade director George Stevens.

50th anniversary of American Graffiti (1973) with actors Richard Dreyfuss and Candy Clark.
30th anniversary screening of Groundhog Day (1993) with actor Stephen Tobolowsky and TCM Host Ben Mankiewicz.
40th anniversary screening of Risky Business (1983) with actress Rebecca De Mornay and TCM Host Dave Karger.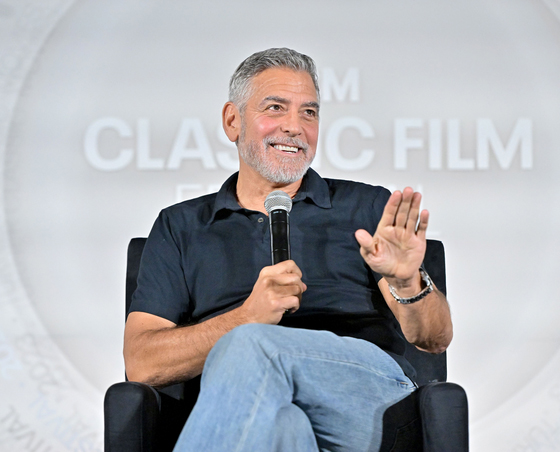 George Clooney, Ocean's 11 Interview. (Photo by Charley Gallay/Getty Images for TCM)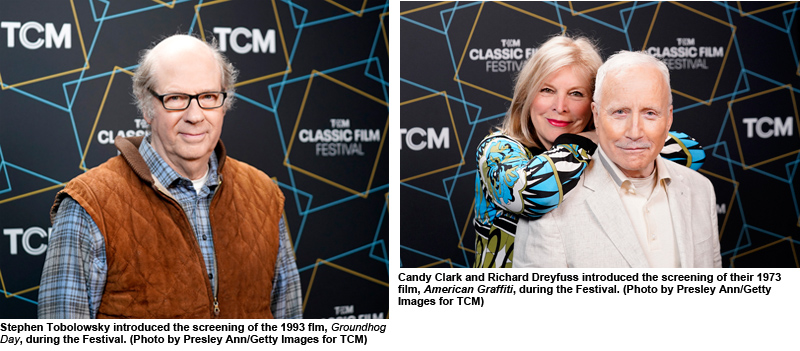 Excerpts from Stephen Tobolowsky's Groundhog Day Interview
Groundhog Day is a 1993 American fantasy comedy film starring Bill Murray, Stephen Tobolowsky, Andie MacDowell and Chris Elliott. It tells the story of Phil Connors (Murray), a cynical television weatherman covering the annual Groundhog Day event in Punxsutawney, Pennsylvania, who becomes trapped in a time loop forcing him to relive February 2 repeatedly.
In the film, Stephen Tobolowsky's character, Ned Ryerson, is an acquaintance of Bill Murray's character, Phil Conners, from 20 years before. Phil keeps running into Ned on the street each morning. At first, Phil doesn't remember him, then later finds him totally obnoxious. Ned is an insurance salesman.
There is an impromptu scene later in the movie where Phil rushes out and gives Ned a big hug. You can tell by the startled expression on Ned's face that he wasn't expecting it.
In Tobolowsky's interview with TCM Host Ben Mankiewicz before the screening, he said that during the last couple of weeks of filming, they decided they wanted more scenes featuring Ned. He also said that no one could come up with a script. They wound up using a script that Tobolowsky had written. He commented that he wasn't given any screen credit or financial compensation for it.
Since its release, Groundhog Day has been interpreted in different ways. Tobolowsky said he had been told that the film is about becoming a more perfect soul.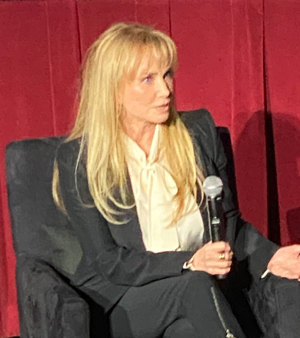 Rebecca De Mornay
(Photo by Linda McCord, Classic Film Watch Contributor
Excerpts from Rebecca De Mornay's Risky Business Interview
During her interview with TCM Host Dave Karger, Rebecca De Mornay talked about her role in the 1983 film, Risky Business. Tom Cruise played a teenager, Joel, whose parents thought he was responsible enough to leave at home while they went on vacation. Rebecca played Lana, a prostitute in the film, who Joel hired for a night.
Rebecca said that sometimes life imitates art in referring to her two and a half year relationship with Tom Cruise following the production of Risky Business.
She talked about Tom Cruise's iconic dance scene in the film. Two songs were considered for the dance. One was a Rolling Stones' song and the other was Bob Seger's Old Time Rock and Roll. The Bob Seger song was chosen because Tom, who was a great dancer, could move more easily to that music.
Rebecca has recently completed three films.
Saturday, April 15 Highlights:
TCM honored American film historian and author Donald Bogle with the Robert Osborne Award before tha screening of Carmen Jones (1954).
Award-winning actor, writer and director Danny Huston joined TCM host Ben Mankiewicz for the 75th anniversary screening of The Treasure of the Sierra Madre (1948).
60th anniversary screening of Bye Bye Birdie (1963) hosted by TCM host Dave Karger and award-winning actress Ann-Margret.
TCM host Jacqueline Stewart and award-winning actor, producer, and director Shari Belafonte introduced The African Queen (1951).
Seven Brides for Seven Brothers (1954) presented in tribute to actor and director Russ Tamblyn.
50th anniversary screening of The Exorcist (1973) featuring director William Friedkin and Randy Haberkamp, executive vice president, Library, Archive and Scitech for the Academy of Motion Picture Arts and Sciences.
Amadeus (1984) presented in tribute to production designer Patrizia von Brandenstein.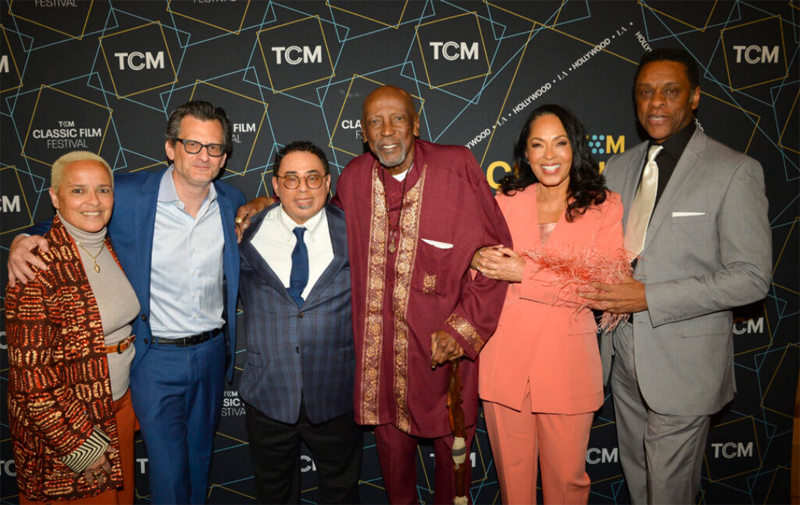 Actress and Singer Shari Belafonte, TCM Host Ben Mankiewicz, Film Historian Donald Bogle (recipient of the Robert Osborne Award), Actor Louis Gossett Jr., Film Producer Debra Martin Chase, and Actor and Singer Lawrence Hilton Jacobs attend the screening of CARMEN JONES (1954) at the Hollywood Legion Theater. (Photo by Jerod Harris/Getty Images for TCM.)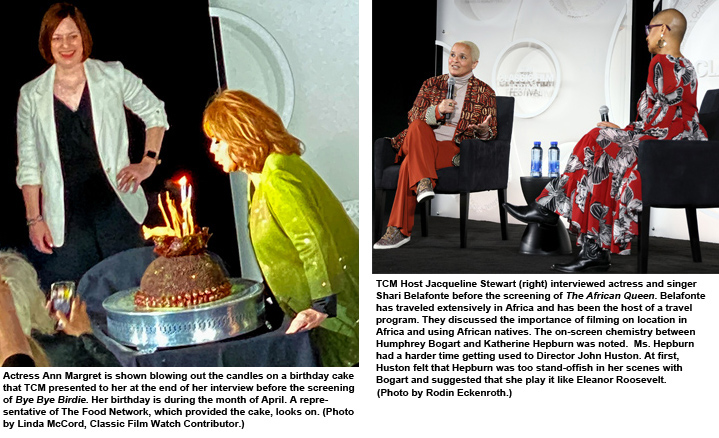 Sunday, April 16 Highlights:
TCM host Dave Karger joined actress Nancy Dussault and filmmaker, writer, and actress Penny Peyser for a screening of The In-Laws (1979).
35th anniversary screening of Stand and Deliver (1988) featuring actor and director Edward James Olmos, actor and director Lou Diamond Phillips, and film historian Luis I. Reyes.
Screening of the 1962 musical, The Music Man with Actress Shirley Jones in attendance.
Official closing night film and 40th anniversary screening of The Big Chill (1983) with discussion by actor Tom Berenger and actress JoBeth Williams.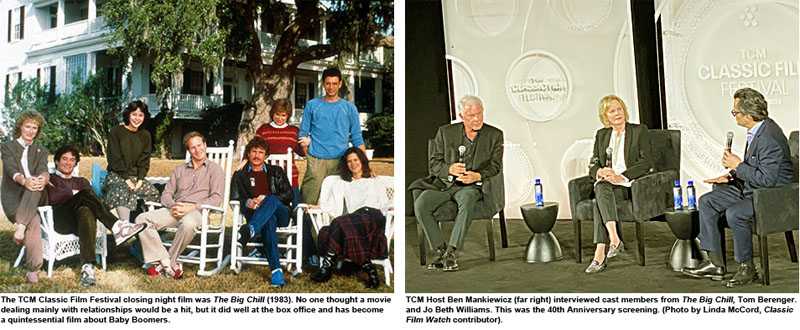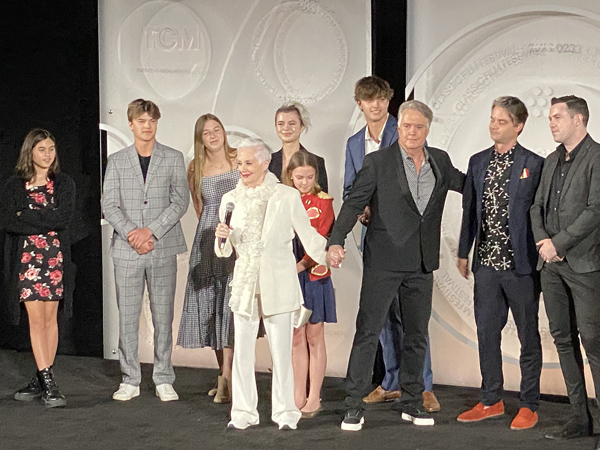 Actress Shirley Jones and her family attend the screening of The Music Man at the TCM Festival.
(Photo by Linda McCord, Classic Film Watch Contributor.)

Excerpts from The Music Man Interview

Ms. Shirley Jones, along with her sons and grandchildren, watched the film together as a family. Her youngest granddaughter wore an original band jacket from the film.
Shaun Cassidy, singer-actor-screenwriter and television producer, talked with TCM Host Dave Karger and reminisced about his time on the set of The Music Man. As a four-year-old, he recalled visiting the set often and becoming friends with child star, Ronny Howard, who was also in the film. He remembered getting a tricycle during this time and learning to ride it on the set.
Shaun said that his brother, Patrick, was also on the set in a manner of speaking, because his mother was pregnant during the filming. After filming started, she had to meet with the director to tell him of her pregnancy. She was assured that they would be able to hide it with costume adjustments, such as bustles and layers. When the scene on the bridge was filmed near the end of the movie, actor Robert Preston was able to feel a kick from the unborn child when he embraced Ms. Jones. Years later, Robert Preston saw Patrick backstage at a performance and commented, "We've already met." Patrick, who was unable to be present at the screening, is an actor who is best known for his roles in musical theatre and television. In 2012, he played the role of Harold Hill in a stage production of The Music Man opposite his mother, who played the role of Mrs. Paroo.
—Linda McCord, Classic Film Watch Contributor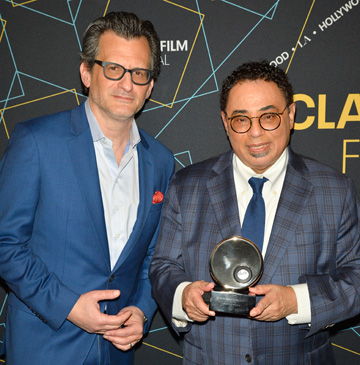 TCM Host Ben Mankiewicz and Film Historian Donald Bogle
(Photo by Jerod Harris/Getty Images for TCM.)

Donald Bogle Received 2023 Robert Osborne Award at TCM Festival

TCM's 2023 Robert Osborne Award was presented to film historian, author, and professor Donald Bogle for his pioneering studies of African American cinema and his tireless efforts to elevate the achievements of Black performers and filmmakers. This honor is presented annually at the TCM Classic Film Festival to an individual who has helped keep the cultural heritage of classic film alive for future generations.
Bogle, whose landmark book Toms, Coons, Mulattoes, Mammies, and Bucks: An Interpretive History of Blacks in American Films was first published 50 years ago, was presented with the Award prior to a screening of Carmen Jones (1954), the Dorothy Dandridge musical that ignited his fascination and analysis of Black artists in the movies.
Leonard Maltin, last year's recipient of the Robert Osborne Award, has said, "No one knows more (or has written more extensively) about the history of African American contributions to cinema than Donald Bogle."
Bogle's celebrated work also includes the TCM book Hollywood Black: The Stars, The Films, The Filmmakers, as well as definitive biographies of actresses Dandridge, Ethel Waters, and Lena Horne, the last of which will be released in October 2023.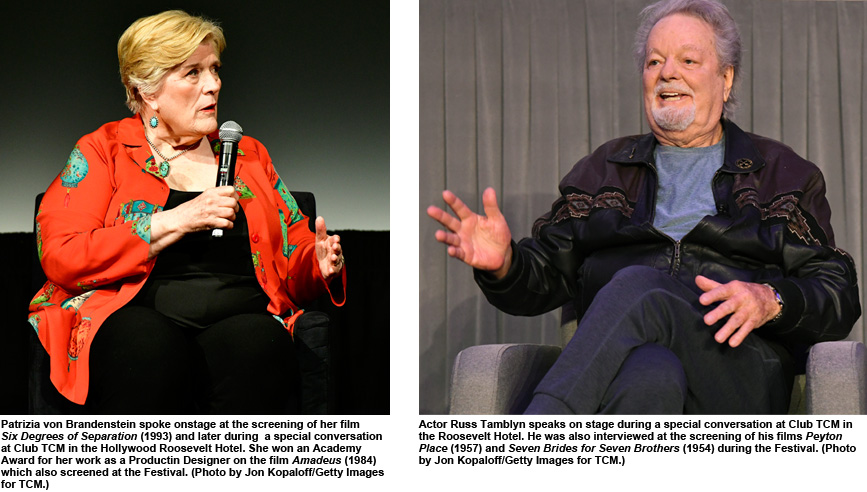 TCM Film Festival honored Patrizia Von Brandenstein and Russ Tamblyn

Academy Award-winning production designer Patrizia von Brandenstein and actor, dancer, choreographer, director, and artist Russ Tamblyn were this year's tribute recipients during the Festival.
Each year the TCM Classic Film Festival pays tribute to a select group of individuals whose work in Hollywood has left a lasting impact on film. Von Brandenstein earned critical acclaim for her work on Six Degrees of Separation (1993) and the Academy Award for Best Art Direction for Amadeus (1984).
Tamblyn's early training as a gymnast prepared him for one of his earliest roles in Seven Brides for Seven Brothers (1954) and he subsequently earned an Academy Award nomination for Best Supporting Actor in Peyton Place (1957).
All four films were screened at the Festival with introductions from von Brandenstein and Tamblyn. Both participated with TCM hosts in Club TCM at the Roosevelt Hotel for extended conversations about their lives and work.
What to do in Hollywood Once the Screen Fades Out

By Mary McCord, Classic Film Watch Editor
Photos by Linda McCord, CFW Contributor
Once the excitement and film-filled days of the TCM Festival is over, you have time on your hands. I travel to the Festival with my sister, Linda, and in recent years, we have started staying a day or two longer to rest up from the busy schedule of the Festival and to see the sights.

The Hollywood Museum
One afternoon, I went to the Hollywood Museum, which is housed in the old Max Factor Building in the theatre district. I had been before, but I was interested in seeing fairly recent exhibits for The Waltons TV series and the Our Gang film series. The Waltons' exhibit celebrates the show's 50th Anniversary and the Our Gang exhibit honors the film series' 100th Anniversary. There was also a large comic book exhibit along with life-size superhero figures. I always enjoy seeing all the different types of costumes throughout the museum, as well as, the old movie posters.
Warner Brothers Classics Studio Tour
Warner Bros. offers four different tours, including a "Classics" tour that is geared toward the Golden Age of Film and TV. This tour includes the studio's 110-acre Backlot and Museum.
During the first part of the tour, a shuttle takes visitors throughout the Backlot. The guide points out the buildings used in many award-winning films that were shot from the early days of the Studio through the 1970s. Most of the buildings were used in many different films or TV shows with changes made to the façade or interior to fit the scene needed. During stops along the way, the guide gave basic information about the set-up of scenes explaining the importance of depth of field and camera angles. And you heard plenty of stories about the making of some of the more memorable films.
After the Backlot, the shuttle lets you off at the Museum. One of the first exhibits includes a replica of the cafe that the characters frequented in the Friends TV series.
Most impressive were the exhibits for the superheros Batman and Superman. Who knew there had been so many Batmobiles! There is also a big exhibit for the Harry Potter film franchise and Game of Thrones series.
Throughout the Museum, there are many exhibits for costumes and props. There are also interactive exhibits, including one where you can create a costume. There is plenty of staff around to explain these exhibits.
The "Classics" tour including the Museum, took around three hours. It was very informative and surprising at times. I would take this tour again.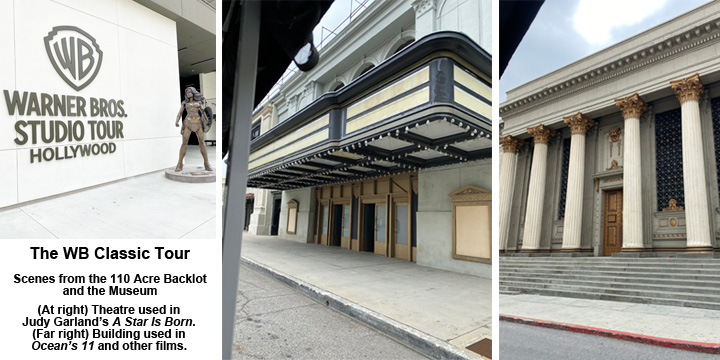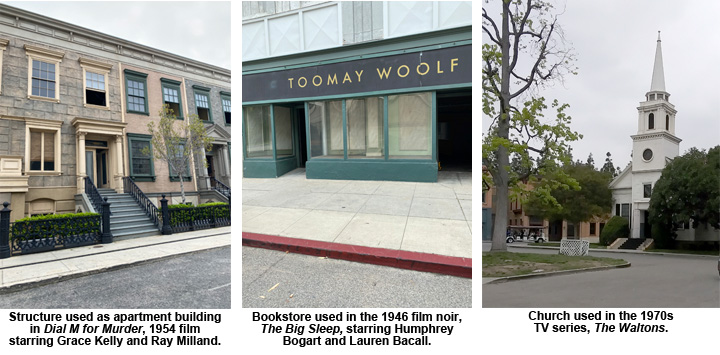 Yamashiro Restaurant and Gardens in the Hollywood Hills
Our final day in Hollywood, we climbed up into the Hollywood Hills to go to the Yamashiro Restaurant and Gardens.Yamashiro means "mountain palace" in Japanese. It was named appropriately. The uphill excursion ended with a visual treat of spectacular views of the city, beautiful gardens, and Asian-inspired architecture, including a courtyard and 600-year-old pagoda. Its history is interesting, as well.
Brothers Eugene and Adolph Bernheimer began construction of the mansion in 1911. The building was designed as a replica of a palace located in the mountains near Kyoto, Japan. It was completed in 1914 and was used as their residence and to house their large Asian art collection. After Eugene's death in 1922, Yamashiro was sold to Actor/Director Frank Elliott.
In the early days of silent films, Hollywood actors and actresses were looked down upon and not accepted among society's elite. Elliott decided to turn the hilltop mansion into a private club. The "Four Hundred Club" quickly became the hangout for actors, directors, writers and celebrities from the era.
By 1926, however, political infighting arose. A new club sprang out of the controversy called the "Mayfair Club", which would remain in residence at the Biltmore Hotel. Elliott announced he would hold his gatherings at the Ambassador Hotel's Fiesta Room. The Four Hundred Club began a slow deterioration, which lead to the selling of Yamashiro in the late 1920s. In the following years, Yamashiro was re-purposed as a boy's military school and then as an apartment building.
Yamashiro was acquired in 1948 by Thomas O. Glover, who discovered the beauty beneath the disrepair and refurbished the space. When Glover's son, Thomas Y. Glover, became owner, he started the Yamashiro Restaurant in the early 1960s.
Since the 1920s, Yamashiro has been used in many film and TV productions, as well as commercials and photoshoots, Yamashiro is the setting for the final scene of Tom Ford's 2016 neo noir, Nocturnal Animals. Director Joshua Logan used the palace as the officers' club in his Academy Award-winning 1957 film, Sayonara, starring Marlon Brando. Other Yamashiro film appearances include Memoirs of a Geisha, Blind Date, Playing God, and Teahouse of the August Moon. If you watch Classic TV, you may see a scene from Yamashiro. During the 1950s and 1960s, the mansion appeared on series such as I Spy, Route 66, Perry Mason and My Three Sons.
In August 2012, the Yamashiro Historic District was added to the National Register of Historic Places.